Strutting and turning down a runway isn't how Baldwin resident John Brown, 17, intends to make a living. But in September, his ability to do so won him a champion title in buymanship at the Kansas State Fair in Hutchinson.
"I've won a lot of ribbons, but I think I'm going to hold on to this one," Brown said while looking at the large purple ribbon declaring him a champion. "I thought I did well. I was just really excited to win."
Brown, a senior at Baldwin High School, has participated in several 4-H competition categories, including livestock and food preservation. But buymanship, perhaps, is a lesser known contest event to members outside the 4-H circle.
Brown is the first Douglas County resident to win the state champion title in buymanship since the late 1970s or early '80s, said Trudy Rice, director of Douglas County Research & Extension.
Rice said buymanship teaches 4-H'ers how to evaluate clothing and presentation skills.
"They learn about the material, the cost of wearing and the cost of upkeep," she said. "For the competition at fairs, participants enter a fashion review and are judged on their outfit, grooming habits and their knowledge of their clothes."
Brown has been learning about buymanship and participating in the associated county fair competitions for 10 years. This was his second time as a contender in the category at the Kansas State Fair.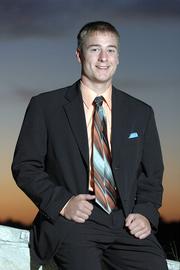 He said he continued competing because he felt he was learning valuable life skills, such as how to conduct himself in public and making sure clothes fit correctly.
"It's really helped me with developing my own style and it is also pretty competitive, which I like," said Brown, who also plays football and runs track for Baldwin High School.
This year, Brown competed against 40 other boys for the champion title. He took part in this year's state contest wearing a black suit with an apricot dress shirt and multicolored tie. The suit, he said, was his best chance to win.
"I didn't imagine I'd ever be wearing an apricot shirt," Brown said. "Suits also aren't always the most comfortable things to wear. But that doesn't matter so long as you're confident and feel good."
He said he intends to major in business in college and figured he should get used to wearing suits.
Brown is eligible to participate in 4-H for three more years and he plans to chase down a few more wins in other categories, such as baking.
More than 100 children from Douglas County entered competition at the Kansas State Fair after winning at the county level. Children participated in several categories, including livestock, woodwork, perennial garden flower and dried foods.
Copyright 2017 The Lawrence Journal-World. All rights reserved. This material may not be published, broadcast, rewritten or redistributed. We strive to uphold our values for every story published.