Cabo San Lucas, Mexico — Hurricane Otis's outer bands lashed the coast of western Mexico on Saturday as the storm crawled toward the Baja California peninsula, forcing hundreds of families to evacuate their homes and flooding roads in this resort city.
The Category 1 hurricane weakened but still had winds up to 85 mph as it headed northward off the coast of Baja. Forecasters expected Otis to skirt past Cabo San Lucas, and move ashore along a sparsely populated stretch of desert far north of here as early as tonight, according to the U.S. National Hurricane Center.
Narciso Agundez, governor of Baja California Sur state, ordered emergency personnel to the community of Comondu, as well as tourist-friendly Lorteo and Mulege, closer to where the center of Otis was likely to hit land. He asked soldiers to help evacuate the islands of Magdalena and Margarita, off the coast of Comondu.
Periods of strong winds and heavy rains were mixed with mostly sunny skies over Cabo San Lucas, giving way to light cloud cover at night. Calm prevailed with the knowledge that Otis stayed out to sea until it was past this area.
Mayor Luis Armando Diaz led voluntary evacuations from the city's poor outskirts, where many homes are little more than wood and metal shacks.
About 700 families had evacuated to shelters in Cabo San Lucas and more than 200 families evacuated in San Jose del Cabo, a nearby tourist destination to the northeast.
But many of those in shelters were expected to return to their homes soon, as the widespread flooding they were bracing for never came.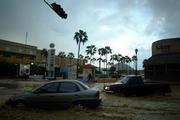 Mexico declared a state of emergency to help cope with heavy rains in five communities, including Cabo San Lucas.
A hurricane warning was in effect for much of the peninsula's Pacific Coast, from Agua Blanca north to Puerto San Andresito and officials issued a tropical storm watch further northward.
Extended forecasts showed the storm weakening as it moved across the sparsely populated Baja California peninsula, then bringing rains to parts of western Texas and southern Arizona by early next week.
Also Saturday, the season's 20th tropical depression was drifting toward Mexico in the western Caribbean, prompting the government to issue tropical storm warnings for the Yucatan Peninsula.
Copyright 2018 The Associated Press. All rights reserved. This material may not be published, broadcast, rewritten or redistributed. We strive to uphold our values for every story published.