Columbia, Mo. — Missouri's Brad Smith and Texas' Vince Young will go head-to-head Saturday as the Tigers face the No. 2 Longhorns in a Big 12 Conference opener.
Although the two quarterbacks have had different levels of success as starters - Young is 20-2 and Smith is 20-19 - they both will be trying to prove themselves to a national audience.
Smith will try to disprove critics after a disappointing 5-6 season a year ago. He also will look to lead the Tigers to their first win against a Top 5 opponent since 1978. Missouri is 0-25 against Top 5 opponents in the last 27 years.
Young, who led his team to a 2005 Rose Bowl win, is a Heisman Trophy candidate looking to lead the Longhorns to the national title game.
"Everybody at Missouri and on TV will get a special treat watching two of the best quarterbacks in the country play," Texas coach Mack Brown said.
Smith, a senior, is 84-of-125 for 748 yards and six touchdowns. He has rushed 54 times for 383 yards and four touchdowns. Smith's average of 362 yards per game ranks him third in the nation in total offense.
Young, a junior, is 39-of-60 for 544 yards and five touchdowns. He has also rushed 35 times for 202 yards and a touchdown.
"You see two phenomenal athletes playing quarterback," Missouri coach Gary Pinkel said. "Both of them can make a lot of things happen when things break down, and that's the thing that causes defensive coordinators to have sleepless nights."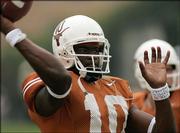 Brown anticipated Saturday's game will be a high-scoring affair. Texas (3-0) is No. 2 in the country in rushing, and Missouri (2-1) is No. 3. Both teams are also in the Top 15 in points scored.
But Texas has won 13 of the last 14 meetings. Last year, the Longhorns posted a 28-20 home win over the Tigers. Young was injured in the second quarter of the game and did not return.
"It was before Vince started on his roll, and he's excited about the game because he knows that he got hurt in last year's game and didn't play very well," Brown said.
As for Smith, Brown said, "We knocked him around last year, and he didn't even blink.
"I think we're seeing a guy who is very similar to the one who's playing for us because he can beat you with his feet, he can beat you with his arm, and he competes so hard."
Young at 6-foot-5 and 233 pounds is bigger than Smith, who is 6-foot-2 and 210 pounds. In the open field, Young is known for longer strides while Smith takes shorter steps.
Beyond the comparisons, Brown said the quarterbacks appreciate each other.
"He (Young) has great respect for Brad Smith. He'll relish the fact that both of them will have the eyes of the nation on them this weekend," Brown said.
Copyright 2018 The Associated Press. All rights reserved. This material may not be published, broadcast, rewritten or redistributed. We strive to uphold our values for every story published.