Here's the beauty of sports: Just when you think every crack, every hole and every shortcut to winning has been explored and exposed, someone innovative does something against everything for which everyone else stands and watches it cause fits for opponents.
The Texas Tech football team is one of those examples, proof that against-what's-popular strategy can come with big rewards if done with complete dedication.
When Tech coach Mike Leach was hired away from his offensive-coordinator duties at Oklahoma in 2000, he brought to Lubbock, Texas, a vision of a passing attack so spectacular, defenses would be completely spent by the fourth quarter, sputter thereafter and watch as Tech won and records fell.
His plan has been executed brilliantly. A Red Raider quarterback has led the nation in passing each of the last three seasons: Kliff Kingsbury threw for 5,017 yards in 2002, B.J. Symons had 5,833 yards in '03, and Sonny Cumbie passed for 4,742 yards last year. And, despite playing in a division with national powers Texas and Oklahoma, the Red Raiders have won 63 percent of their games in the Leach era and have been to a bowl game every year Leach has been head coach.
"I think the biggest thing really is constant reps," Leach said. "Just have as productive of practices as you possibly can."
While most don't stray far from what has been proven to work over the years - namely balanced teams and balanced schemes for sports like basketball, football and baseball - championships have been won otherwise. Texas Tech longs to add some sort of hardware to the collection, too, by doing it a way few ever have dreamed of trying.
Keeping it balanced
In football, balance is key. Kansas University football coach Mark Mangino, for example, likes to balance pass and run in his offensive scheme and likes a quarterback balanced enough to do either.
There's also the balance between offense and defense, one reason junior Charles Gordon no longer is a full-time wide receiver at KU. After a high-flying Jayhawk offense in 2003 was negated by a porous defense, Gordon switched to cornerback, and the teeter-totter immediately shifted the other way.
Ask the NFL's Baltimore Ravens what side of the seesaw should be on the ground. In 2000, they went an amazing four consecutive games without scoring a single touchdown. But behind a legendary defense led by linebacker Ray Lewis, they went on to win the Super Bowl that season.
Between offense and defense, Tech keeps it plenty balanced. The Red Raider defense constantly has improved over the years and now is in the top half of the Big 12.
But the balance within the offense is missing - despite having a capable running back in Taurean Henderson. In 2004, Tech's passing offense averaged 138 yards per game more than any other Big 12 team. But the rushing offense was dead last in yards per game and had 74 less carries than any other team in the league.
Running the ball, though, goes against the Tech creed: Spread out the defense, look for the hole, and make 'em pay.
Seem complicated? It's really not. In fact, former quarterback Symons called it one of the most simple systems he's been a part of.
"We might not have 100 plays like other teams do," Symons told the Houston Chronicle, "but the way the Tech system works is you do it over and over until it's perfected."
Practice makes perfect
Intense practices seem to be the key. Leach and Symons agreed the work between games made the show so spectacular, and other coaches can tell just by looking at film.
"I think it's very efficiently operated," Mangino said. "They execute, and that's really the key."
Other creative attacks in other sports have similar means to the end. Grinnell (Iowa) College's men's basketball team takes pride in its work ethic in practice, and it's resulted in unparalleled antics and attention.
Despite being an NCAA Division III institution, Grinnell has made national headlines for its high-scoring, run-and-gun, shoot-a-ton-of-three-pointers offense that makes opposing teams go into the game knowing it will be unlike any other.
The Pioneers (fitting mascot) averaged 126.2 points per game in 2003-04, an NCAA record. It's led the nation in scoring for 10 straight years.
"We're trying to perfect chaos," Grinnell coach David Arsenault told Sports Illustrated.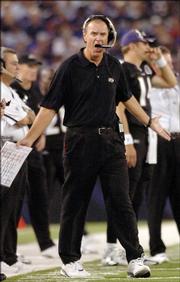 On the flip side, major league baseball's Oakland Athletics try to limit chaos, dismissing the impact of certain popular statistics in favor of others. It's known as the "Moneyball" approach after a best-selling book chronicled the strategy, and it includes fewer stolen bases, no sacrifice bunting, heavy emphasis on on-base percentage and a drafting strategy that almost exclusively targets college standouts.
It's minimizing the risk, and it's landed Oakland in the playoffs four of the last five years, including two 100-win seasons as a small-market club.
Spreading it out
Leach doesn't consider Texas Tech's approach as being exactly risky or chaotic, either - heck, he's fine-tuned it for 15 years now.
Tech runs an innovative version of the spread offense, defined loosely as spreading the field with a lot of receivers and looking for defensive holes. With receivers running crisp routes and a quarterback gifted with good field vision, it works.
Leach and Hal Mumme developed the attack at Iowa Wesleyan in 1990. Leach has had it handy in stops at Valdosta State, Kentucky and Oklahoma, but made it a national phenomenon when taking control of the Red Raiders in 2000.
Many programs have adopted the spread offense - including Kansas in a mild fashion - but Tech is still is unique as any, with zest and some offensive statistics that make other coaches shake their heads.
"A lot of people are touching the ball," Leach said. "A lot of people are helping them get the yards. It's the understanding that it is a team effort."
Copyright 2018 The Lawrence Journal-World. All rights reserved. This material may not be published, broadcast, rewritten or redistributed. We strive to uphold our values for every story published.