College Station, Tex. — Texas A&M; receiver Chad Schroeder is smart and deceptively quick.
But those qualities don't explain his statistics this season.
Each of the former quarterback's four catches have been for touchdowns. His only rush also went for a score.
His teammates have inserted touchdown between his first and last name, and his knack for scoring every time he touches the ball has them talking about him with reverence.
"Every time Chad touches it, it's a touchdown," said fellow receiver Jason Carter. "Everybody knows that."
Even Schroeder can't tell you the secret to his success, but he's reveling in it.
"I don't know but I'll take it," he said. "Coach Fran (Dennis Franchione) always talks about preparing for your opportunity and luckily when it's come I've been able to take care of it."
It probably doesn't hurt that Schroeder spent years as a quarterback and grew up immersed in the game as the son of Ron Schroeder, former longtime coach at Austin Westlake.
"He does have an understanding of the game and I think that's very critical when you play that position," said Aggies offensive coordinator Les Koenning. "He has the ability to be in the right spot and that creates confidence with the quarterback."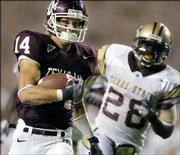 The junior had one catch for a 31-yard score at Clemson, catches for TDs of 15- and 32-yards in a win over SMU and a 44-yard catch for a score against Texas State. He's averaging 30.5 yards per catch.
He has been timed at 4.34 in the 40-yard dash. He uses that speed to easily lose his defenders and it came in handy when he took the snap on a fake field goal 13 yards for his other touchdown against Texas State.
Schroeder caught eight passes for 141 yards but didn't manage any touchdowns as a freshman. Last season he had four catches for 135 yards and two scores.
Modest and unassuming, Schroeder said his output is "pretty cool" and that he considers it a blessing.
As a high school quarterback, Schroeder put together an impressive resume. In 2001 as a senior, he threw for 2,534 yards and 28 touchdowns.
Schroeder got past Houston Madison and current Texas quarterback Vince Young in the semifinals before a Reggie McNeal-led Lufkin team beat Westlake in the Class 5A Division II Championship.
He had orally committed to play quarterback at Purdue before changing his mind and coming to Texas A&M; where he knew he'd have to convert to wide receiver.
Seeing McNeal's skills as a quarterback in the state title game made him less resistant to the transition.
"When I knew I was going to come here to play receiver it was really exciting because I knew he was going to be the quarterback," Schroeder said.
McNeal is happy that Schroeder's on his team now. He enjoys watching him work.
"Anytime I throw the ball I know he's going to make a play for me," McNeal said. "He just runs right by them and once he gets by them they won't catch up with him."
Schroeder will try to keep his perfect ratio intact when Texas A&M; opens Big 12 Conference play against Baylor today.
Copyright 2018 The Associated Press. All rights reserved. This material may not be published, broadcast, rewritten or redistributed. We strive to uphold our values for every story published.