The debacle for the Central Heights football team started early and continued for four quarters as Eudora put a 61-6 whipping on the Vikings during Friday night's homecoming game at Laws Field.
Eudora scored 32 first-quarter points - 24 in the first seven minutes - on its way to improving to 5-0.
Running back Luke Abel rushed for 201 yards and two touchdowns, and James Mills added four touchdowns for the Cardinals.
Eudora's scoring spree started on its fourth play from scrimmage. A 40-yard run by Abel set up Mills for a one-yard touchdown run. A two-point conversion put the Cardinals ahead, 8-0.
"That first drive really set the pace of the game," Eudora coach Gregg Webb said.
The Cardinals added to the lead on their next possession when quarterback Kyle Brouhard broke loose for a 16-yard touchdown run on a quarterback keeper. Abel added the two-point conversion and gave the Cardinals a 16-0 lead with just over six minutes remaining in the first quarter.
Photo Gallery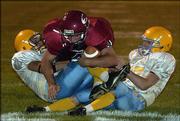 Eudora High vs. Central Heights 09-30-05
Central Heights scored its only points on the next possession on a 40-yard pass from Gus Wuertz to Tony Wilson, closing Eudora's lead to 16-6, but it didn't take the Cardinals long to stretch the margin again.
"We let them back in the game with that play," Webb said. "We got beat on a long pass and had some miscommunication, but we rebounded."
Nolan Smith made what Webb said was the biggest play of the game when he returned the ensuing kickoff 75 yards for a touchdown for the Cardinals. Abel added the two-point conversion, putting the Cardinals up, 24-6, with 4:36 left in the first quarter.
Eudora didn't let up for the rest of the half, and the Cardinals scored again less than three minutes later. Miles Cleveland set the Cardinals up at the Vikings' 28-yard line with a 40-yard punt return.
Mills capped a five-play, 28-yard drive with a one-yard touchdown run and a two-point conversion, ending the Cardinals' 32-point opening quarter.
Two second-quarter turnovers by Central Heights led to two quick touchdowns by Eudora. The Cardinals recovered a Vikings fumble on a punt return and took over at the Vikings' 27-yard line. It took only three plays in 37 seconds for them to widen the margin to 39-6.
On the next possession, Abel broke loose for an 84-yard touchdown run, putting the Cardinals up 47-6 with just more than six minutes left in the half.
"We ran the ball really well; we broke some tackles," Webb said. "And our offensive line played well."
The second Vikings turnover of the quarter came with 5:18 left in the half when Wuertz was intercepted by Bruce Spillman. The Cardinals took over at their own 25-yard line. Mills finished a four-play drive with a two-yard touchdown run, his third of the night, giving Eudora a 54-6 lead at the half.
Mills scored on the first possession of the second half to close out the scoring.
Central Heights (3-2) had two opportunities to score in the fourth quarter, but turnovers and penalties kept the Vikings out of the end zone.
Eudora will try to remain unbeaten Friday when it plays host to De Soto.
Eudora 61, Central Heights 6
Central Heights - 6 - 0 - 0 - 0 - - - 6
Eudora - 32 - 22 - 7 - 0 - - - 61
E - James Mills 1 run (Bruce Spillman pass from Kyle Brouhard)
E - Brouhard 16 run (Luke Abel run)
CH - Tony Wilson 40 pass from Gus Wuertz (run failed)
E - Nolan Smith 75 kickoff return (Abel run)
E - Mills 1 run (Mills run)
E - Abel 12 run (Smith kick)
E - Abel 84 run (Smith run)
E - Mills 2 run (Smith kick)
E - Mills 23 run (Smith kick)
Copyright 2018 The Lawrence Journal-World. All rights reserved. This material may not be published, broadcast, rewritten or redistributed. We strive to uphold our values for every story published.