Douglas County emergency workers are back from the Katrina-stricken South, saying they've learned new lessons by assisting Mississippi communities get back on their feet.
"We're used to having small-scale disasters, but never something that large," said Douglas County Emergency Management Assistant Director Teri Smith. "This hurricane took out entire counties. They're just working out of a school trying to get things up and running."
Smith was one of several Kansans who recently worked helping hurricane-devastated communities. She returned Sunday after spending time in several southern Mississippi counties hit hardest by Hurricane Katrina.
Douglas County Operations Manager Bill Brubaker also returned last week after helping with emergency communication systems in portions of the state. The two worked in several locations around southern Mississippi but were stationed much of the time in Biloxi.
The job was a challenge, Brubaker said. But being able to help people who finally got some reception on a cell phone after being "virtually forgotten for 10 days" was a remarkable experience, he said. Most people were just happy to talk with someone, he said.
Photo Gallery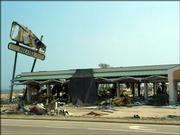 Hurricane Helpers
Lawrence residents return from storm-ravaged region with photos.
"It's going to take a long time for them to get back up to speed," Brubaker said. "But I want to go back so I can see the changes."
Smith mainly acted as a liaison between local, state and federal governments.
"One of the things we did was assess all the government buildings on what was lost and what needed to be replaced," she said. "We went through courthouses, city office buildings, schools, fire departments, police departments just to figure out what they needed to get back up and running."
She also worked with county leaders to find out what they wanted to do for temporary emergency housing, such as base camps and trailers.
Smith and Brubaker said living conditions were less than desirable, but as expected.
"We ran our operation for four days out of a parking lot of a baseball field at a school," Brubaker said. "We didn't have enough cots, so we had to sleep in shifts."
Smith said there was no running water when she first arrived. But even when it was running, she had to get used to cold showers and brushing her teeth with bottled water.
"While I was there, I could see things improving," she said. "But they were little things. This is just going to take time."
Copyright 2018 The Lawrence Journal-World. All rights reserved. This material may not be published, broadcast, rewritten or redistributed. We strive to uphold our values for every story published.