More than 150 teachers showed up for salary negotiations with the Lawrence school district Friday, expecting a final deal after months of haggling.
Instead, they'll have to wait at least two more weeks after district officials admitted confusion about the details of their offer.
"There are some numbers we need to look at," Mary Rodriguez, the district's chief negotiator, said after the bargaining session ended at 6 p.m.
The district had proposed adding $2.6 million to teacher salaries, which officials said was an 8 percent increase. But on Friday, negotiators for the Lawrence Education Assn. said the district's offer amounted only to a 6.7 percent increase in pay for the district's 850 full-time teachers.
"What we're seeing is those numbers don't add up," said Kelly Barker, a government teacher at Free State High School and member of the teachers' negotiating team. "What we're trying to determine was, is it the board's intention to give us an 8 percent increase, or was it the board's intention to increase the available dollars by $2.6 million?"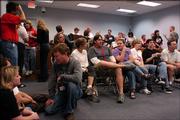 "These are good questions," said David Cunningham, an attorney for the Kansas Association of School Boards, who is assisting the district. "We need to go back and talk to the (Lawrence School) Board."
The teachers are asking that base salaries be raised by $1,500. The district has said its offer would increase pay by $1,219 apiece.
Both sides said they believed a settlement was around the corner.
"We want to make sure we do what's right for the teachers, and so forth, so we need a little time to visit with the board and talk with them about their intent and so forth," Rodriguez said.
"I keep thinking that we're closer," Barker said. "I think each step puts us closer to each other's position, and that means a settlement should be there in the middle somewhere. We just need to get to it."
The school board next meets Oct. 10. Salary negotiations resume at 4 p.m. Oct. 12.
Copyright 2018 The Lawrence Journal-World. All rights reserved. This material may not be published, broadcast, rewritten or redistributed. We strive to uphold our values for every story published.