There's a new Bud man in town.
Kevin O'Malley is overseeing distribution of Anheuser-Busch products in Lawrence and six counties in northeast Kansas, after his family-owned business bought the former Classic Eagle Distributing LLC.
The new Kansas operation - O'Malley Beverage of Kansas Inc. - takes over an operation that bought more than $10 million of products and services from the brewery giant last year, enough to move 1.1 million cases of Budweiser, Michelob and other Anheuser-Busch products from Lawrence to Atchison, Garnett, Leavenworth, Ozawkie and all points between.
And O'Malley wants more.
"Everything I have is because of Anheuser-Busch," O'Malley said Friday, sporting a Bud Light polo shirt in his new office at 2050 Packer Court in northern Lawrence. "Anheuser-Busch has made me. That's why I just love being the Bud man so much - because that's who I am. It's about shaking hands, meeting people and making friends. It's about relationships.
"That's our business."
O'Malley - who actually sported a life-sized "Bud Man" suit early in his Anheuser-Busch career, dancing on the bar at The Hawk when he started in promotions - plans to bring some fun, friendliness and fairness back to an operation that has endured some bitterness in recent years.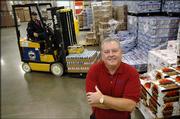 Classic Eagle's former owners, Kirk Lambright and David Duncan, had entered the Lawrence market in 1998, after gaining control of the Budweiser distributorship from its longtime owners, the McDonald family, of Lawrence. The McDonalds had owned the distributorship for 65 years.
Under Lambright and Duncan, Classic Eagle served more than 400 customers in Douglas, Leavenworth, Franklin, Jefferson, Atchison and Anderson counties.
Customers and other industry observers in town said the relationship between the two owners - Lambright is the son of the brewery's former chief counsel, and Duncan is Kirk Lambright's cousin - had grown strained in the past year, with each partner trying to buy the other out. Classic Eagle's purchases from the brewery had dropped to $10 million in 2004, down from $10.5 million a year earlier, according to the Anheuser-Busch proxy statements.
Finally, in May, Anheuser-Busch entertained bids for the business, which had expanded into a new 65,000-square-foot building a few years ago.
The O'Malleys won.
"We'd tried to buy three or four other places and never been successful," O'Malley said. "When we heard that Lawrence was for sale, we made the decision that this was one we would not let pass."
The purchase gave the O'Malley brothers the new building on eight acres in a new industrial area north of the Kansas Turnpike, across North Iowa Street from PackerWare. The business had 40 employees on the payroll, a number that has since been culled to 38, where it is expected to remain steady.
Next week, logistics officials from the brewery's headquarters in St. Louis will be in Lawrence to help review the distributor's 10 delivery routes, in search of efficiencies.
One change on the way: All customer accounts will be switched to "presale," meaning that every truck will be loaded with cases guaranteed to be delivered to a customer, rather than stacked onto shelves in hopes they would be sold during a day's route.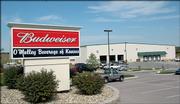 "It's better service," O'Malley said.
All customers - no matter how large or small - also will be paying the same prices for products, O'Malley said. That will be a change from the previous owners, who cut discounts to some of their larger accounts, such as major liquor stores.
The O'Malleys' goal: Build relationships, make friends and boost sales. The Lawrence operation currently ranks last among Bud distributors in Kansas, with only 52 percent of the market.
The state average: 56 percent.
"When O'Malley Beverage took over the St. Joseph, Mo., operation in 1985, Anheuser-Busch had only 32 percent of the market; today we enjoy a market share of 65 percent," said Pat O'Malley, who shares ownership of the Lawrence and St. Joseph distributors 50-50 with his brother.
Kevin O'Malley, who has been a "Bud man" since starting Anheuser-Busch as a Benedictine College student in 1978, is shooting for that same percentage out of Lawrence, which would put the operation on top in Kansas.
"It's a great market," Kevin O'Malley said. "It's an honor to be here."
Copyright 2018 The Lawrence Journal-World. All rights reserved. This material may not be published, broadcast, rewritten or redistributed. We strive to uphold our values for every story published.