Bismarck, N.D. — Crews on Tuesday gradually reopened major highways that had been closed by the Plains' first blizzard of the season, stranding post-Thanksgiving travelers. Thousands of people remained without electricity.
Five deaths were blamed on slippery roads in Minnesota, South Dakota, Nebraska and Kansas. A sixth person was killed by a tornado spun off by the storm system in Arkansas.
Remnants of the system headed over the upper Great Lakes on Tuesday after the storm dumped snow as far south as the Texas Panhandle. As much as 20 inches of snow fell at Kennebec, S.D., while Chamberlain, S.D., was choked by drifts up to 8 feet high.
Utility officials estimated that 50,000 customers were blacked out across eastern South Dakota on Tuesday, and many communities in North Dakota had no electricity. Nebraska also had scattered outages.
South Dakota Gov. Mike Rounds said Tuesday that electricity might not be restored to some areas for a few days as roads blocked by drifted snow kept utility crews from finding all the damaged lines. Power companies in North Dakota said it could take days to restore power.
It was the worst storm to hit eastern and central South Dakota in nearly a decade, Rounds said.
Interstate 94 was closed overnight for about 100 miles across eastern North Dakota, but the Highway Patrol reopened it Tuesday morning. I-29 also was reopened from Fargo south to the South Dakota line, and South Dakota authorities said their section would reopen by midday.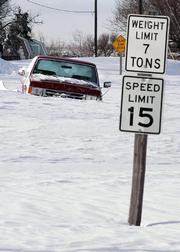 South Dakota officials said traffic also would be restored on I-90, which had been closed for nearly 200 miles across the state. In Nebraska, I-80 was reopened along a 200-mile stretch, the state road department said.
At least 600 travelers were still stranded Tuesday at community shelters in central Nebraska, emergency manager Brian Woldt said.
"At times they get grouchy. They're wanting to get down the road, but for the most part they're doing fine," Woldt said.
Colorado and Kansas reopened more than 400 miles of eastbound I-70 between Denver and Salina, Kan., after two days.
Almost 1,000 people spent Sunday night in shelters along I-70 in Kansas, including more than 200 on cots and exercise mats at Fort Hays State University in Hays, officials said.
Copyright 2018 The Associated Press. All rights reserved. This material may not be published, broadcast, rewritten or redistributed. We strive to uphold our values for every story published.