Somewhere in the swirling mix of gulls just east of the Massachusetts Street Bridge is an off-white bird that's smaller than the rest.
At first, area birdwatchers thought it might be an Iceland gull, a rare find in Kansas.
Now, they're saying it's one of two glaucous gulls, still an uncommon sighting but not as rare as an Iceland.
"It's not an extreme rarity," said David Seibel, a science professor at Johnson County Community College and one of the state's best-known birdwatchers. "But it's rarer than, say, a snowy owl by quite a margin."
Glaucous gulls spend their summers in the arctic, migrating to the Great Lakes region in the winter.
"There have been about 50 confirmed sightings in Kansas - ever," Seibel said.
Also in the mishmash flock is a lone Thayers gull. It, too, is half a continent out of its range.
"They're usually found on the West Coast at this time of year," Seibel said.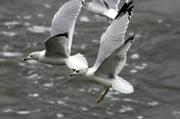 Of the hundreds of grey-and-white birds lingering on or above the sandbars below Bowersock Dam, most are either ring-billed or herring gulls. Both are common.
The glaucous and Thayers gulls were first found by Lawrence birdwatcher Galen Pittman.
"It was the Sunday before Thanksgiving," Pittman said. "I was with (Mission birdwatcher) Mick McHugh. We just stopped and looked."
Pittman posted the sighting on a listserv for Kansas birdwatchers, which prompted a steady flow of binocular-toting visitors.
"For birders, it was - and still is - a big event," he said. "You can just stand there and see two birds that are what I call 'regular unusual winter birds' for Kansas. They're not rare but if you're into birding, they're certainly worth making an effort to see."
Eagle eyes
If you like to view the eagles that migrate to the Kansas River Dam each winter, you don't have to brave the cold. You can view the eagles live each day on the EagleCam. The EagleCam presents a new still image every 30 seconds, and is positioned atop the old Riverfront Mall building, looking north-northwest toward the Kansas River Bridge.
Dan Gish drove over from Topeka. He, too, was stumped by the smaller of the two glaucous gulls.
"It looked like a glaucous, but it was noticeably smaller," he said.
After taking and analyzing a few hundred digital photographs of the two birds, Seibel used the listserv Tuesday to announce that he thinks the smaller of the two birds is either a smaller sub-species of glaucous or, more likely, a "runt."
Seibel said the sighting marks the first time he's seen two glaucous gulls together in Kansas.
"The fact that they're here with the Thayers make me think all got caught up the same storm and blew in together," he said.
Copyright 2018 The Lawrence Journal-World. All rights reserved. This material may not be published, broadcast, rewritten or redistributed. We strive to uphold our values for every story published.