When it comes to the world of chili, there aren't many secret recipes.
Darrel Zimmerman, who owns Kill Creek Farm near De Soto, learned that this fall.
His farm played host to a chili cook-off, organized by the De Soto Rotary Club, in October. He was surprised at how many chili chefs were willing to share a tent with their competitors.
"Barbecue people are pretty secretive about their rubs," Zimmerman says. "With chili people, if you're a winner, you're obligated to share your recipe. It's not so much what goes into it as how you handle it."
That leads to a wealth of champion chili recipes available online and in cookbooks - if you're willing to take the time and have the special touch to turn meat, spices and maybe even some beans into a hearty meal.
Dorothy Malsbury, owner of Downtown Catering & Carry-Out, 805 Vt., sees chili as a chance to experiment. She offers chili on Fridays and rarely uses the same recipe twice.
She usually lets her chili simmer at least three hours the day before she's planning to serve it. Then, it sits in the refrigerator for a day to let the flavors blend before heating it up for serving.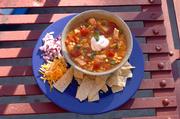 The care taken in making chili - and the time involved - might seem strange, considering the dish's humble beginnings.
Though the exact story varies, it's generally assumed chili was invented in the 1840s or '50s by Texas cowboys who needed food during cattle drives. They would pound dried beef, chili peppers and salt together, then cook them in water on the drives.
Most chili didn't have beans until the 1930s, when the Great Depression led many Americans to look for ways to extend their recipes. Some chili competitions still forbid the use of beans, saying that's not authentic chili.
But for Malsbury, anything goes. She rarely uses hamburger and opts instead for shredded chicken. This time of year, she often uses turkey instead. Pork roast is also an option.
Aside from nearly always using chili powder, garlic and cumin, Malsbury says the ingredients in her chili recipes vary greatly.
"You can put corn, green chilis," she says. "Obviously lots of onion and tomato or even some sauteed peppers."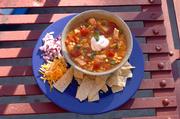 She's seen recipes that call for dark chocolate or vinegar.
"It's fun to play with different recipes," she says. "You can doctor it up and hope you remember what you did."
Recipes
Black Bean Chili
1 medium onion, chopped
1 medium green bell pepper, diced about 1/4-inch pieces
1 1/2 cups plus 1 tablespoon vegetable broth
6 medium cloves garlic, chopped
2 cans black beans, drained
1 can (8 ounces) tomato sauce
1 can (15 ounces) diced tomatoes, undrained
2 tablespoons ground cumin
2 tablespoons red chili powder
2 tablespoons dried oregano
1 cup corn kernels, fresh or frozen
1/4 cup fresh chopped cilantro
Salt and black pepper to taste
Heat 1 tablespoon broth in a medium soup pot. Saute onion and bell pepper in broth over medium heat for about 5 minutes, stirring frequently until translucent. Add garlic, cumin, red chili powder and continue to saute for another minute. Add 1 1/2 cups broth and rest of ingredients, except cilantro and corn. Simmer for another 20 minutes uncovered. Add corn and cook for another 2 minutes. Add chopped cilantro and season with salt and pepper to taste.
Source: www.whfoods.com
Chili
1 1/2 pounds mock tender, cubed
1 can beef broth
1 8-ounce can tomato sauce
1/2 tablespoon paprika
1/2 teaspoon cayenne pepper
1/2 tablespoon onion
2 cubes chicken bullion
2 cubes beef bullion
4 tablespoons chili powder
2 tablespoons cumin
1 package Sazon Goya seasoning
1/8 teaspoon brown sugar
1 teaspoon garlic (powder or granules)
1/8 teaspoon white pepper
Brown mock tender. Add beef broth, tomato sauce, paprika, cayenne, onion, chicken and beef bullion and 1 tablespoon chili powder. Cook until meat is tender. Thirty minutes before eating, add cumin, Sazon Goya, brown sugar, garlic, white pepper and remaining chili powder.
Source: www.chili.org
Chili Verde
1 1/2 teaspoons granulated garlic
2 1/2 tablespoons chicken base
1 teaspoon celery salt
1 tablespoon cornstarch
1 teaspoon oregano
1 tablespoon cumin
1/2 tablespoon jalapeño
1 tablespoon dried cilantro
1/2 tablespoon green chili powder
2 pounds pork cut into small cubes
1 cup cooked onion
14 ounces chicken broth
10 ounces green enchilada sauce
27 ounces chopped green chili
8 ounces hot green chili puree
Brown pork and drain. Add onion and broth. Simmer approximately 1 hour, stirring often. Add garlic, chicken base, celery salt, cornstarch, oregano, cumin, jalapeño, cilantro and chili powder. Let simmer. Add green enchilada sauce and let simmer. Add green chili and cook for 15 minutes. Add hot green chili puree.
Source: www.chilicookoff.com
Southwestern White Chili
1 pound boneless skinless chicken breasts
2 tablespoons olive oil
1 large onion, chopped
1 cup chicken broth
4 ounces green chiles, chopped
1 large can white kidney beans (cannellini), undrained
1 teaspoon garlic powder
2 cloves garlic, minced
1 tablespoon cumin seeds, ground
1/2 teaspoon oregano
1/2 teaspoon cilantro
1/8 teaspoon ground red pepper
Heat oil and saute chicken and onion 4 to 5 minutes. Remove chicken and cover to keep warm. Add garlic to pan and cook 2 minutes or until onions begin to brown. Stir in chilis, spices and broth and simmer on low heat for 30 minutes. Stir in cooked chicken and beans. Simmer until tender. Serve garnished with Monterey Jack cheese.
Source: www.cooks.com
Sweet Cincinnati Chili
1 Spanish onion
1 pound lean ground beef
1/4 teaspoon salt
1 can (10 ounces) kidney beans
1 can (14 ounces) tomato sauce
1 green bell pepper
1 red bell pepper
1 tablespoon chili powder
1 teaspoon cinnamon
1 cup grated mozzarella
Chop the onion into large pieces and saute in light oil. When onions have turned translucent, add ground beef and brown. Add 1/4 teaspoon salt while meat is cooking. Core and slice both peppers and add to meat while cooking. Once meat is completely browned, empty contents of pan into large pot and set on medium heat. Add tomato sauce, kidney beans, chili powder and cinnamon. Stir well to blend ingredients and bring to a boil. Lower temperature and cook uncovered for about 15 minutes. Serve in bowl with mozzarella.
Source: www.chilipaper.com
Turkey Chili
1 pound lean ground turkey
1 small onion, chopped
3 cans (15 ounces each) dark red kidney beans, drained
3 cans (14.5 ounces each) stewed tomatoes, undrained
1 cup water
2 celery stalks, chopped
1 medium bell pepper, seeded and chopped
1/4 cup vinegar
2 tablespoons chili powder
1 teaspoon ground cumin
1 teaspoon dried parsley
1 teaspoon dried basil
1/2 cup red wine
Heat a large stockpot over medium-high heat until hot. Add ground turkey breast and chopped onion and cook until browned. Remove from heat and drain. Return the turkey and onions to the stockpot. Add the remaining ingredients except for the red wine and bring to boil. Reduce heat and simmer on low heat for 2 hours. Add the red wine and continue cooking for another hour.
Source: www.24hourfitness.com
Vegetarian Chili
1 tablespoon vegetable oil
1 cup chopped onions
3/4 cup chopped carrots
3 cloves garlic, minced
1 cup chopped green bell pepper
1 cup chopped red bell pepper
3/4 cup chopped celery
1 tablespoon chili powder
1 1/2 cups chopped fresh mushrooms
1 can (28 ounces) whole peeled tomatoes with liquid, chopped
1 can (19 ounces) kidney beans with liquid
1 can (11 ounces) whole kernel corn, undrained
1 tablespoon ground cumin
1 1/2 teaspoons dried oregano
1 1/2 teaspoons dried basil
Heat oil in a large saucepan over medium heat. Saute onions, carrots and garlic until tender. Stir in green pepper, red pepper, celery and chili powder. Cook until vegetables are tender, about 6 minutes. Stir in mushrooms and cook 4 minutes. Stir in tomatoes, kidney beans and corn. Season with cumin, oregano and basil. Bring to a boil and reduce heat to medium. Cover and simmer for 20 minutes, stirring occasionally.
Source: vegetarian.allrecipes.com
Copyright 2018 The Lawrence Journal-World. All rights reserved. This material may not be published, broadcast, rewritten or redistributed. We strive to uphold our values for every story published.