When Bill Donahue opened his boat business three years ago in Annapolis, Md., he joined a growing trend among retiring baby boomers. He turned a part-time hobby into a full-time job.
Protirement, a term coined during the early 1990s, in part describes the secondary careers taken on by many workers who find their savings and Social Security won't be enough to sustain their lifestyles after they reach the traditional retirement age of 65.
Those without financial concerns simply want to have something different to do in their later years.
But it's a time of life that experts say workers need to start planning for as early as their mid-40s.
After a successful career in banking, Donahue, 57, figured he was lucky enough to choose a new career he was so passionate about. He launched Annapolis Classic Watercraft to design and restore the boats.
"This is my retirement," Donahue said. "I see no end for this."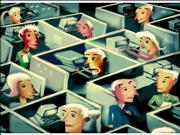 Career experts predict more people like Donahue will find second careers as they get closer to their retirement ages. For that reason, the word "retirement" often is being replaced by words like "protirement" and "rewire" by career counselors and workers. Recent surveys show that most employees expect to work past retirement in some capacity.
"(Protirement) means to become proactively engaged (in the next stage) instead of sitting back and seeing it as a final chapter," said Pamela McLean, co-founder of the Hudson Institute of Santa Barbara in Southern California, a training center for professionals.
Carleen MacKay, co-author of "Boom or Bust - New Career Strategies In a New America for Baby Boomers and Beyond," and a specialist in emergent work-force issues at Spherion, an international recruiting company, said that because people were living longer than they had in the past, such people were creating a new stage in adult development.
"The '60s, '70s and '80s are a time of life we've never had the way we have today," McLean said. "Because we're living longer, we may not have as big a nest egg as we need. This is a perfect time to find your passion and live out some unfulfilled dreams."
With 76 million baby boomers approaching retirement starting in 2010, experts are urging workers to prepare for the future by devising a plan for how they want to spend their lives after they finish their current careers.
Besides considering how much money will be needed, experts suggest that workers expand their education and enhance their skills in areas they would like to pursue later. Many workers are like Donahue and expect to start businesses on their own, experts say.
Experts advise workers to think now about how they would like to spend their later years.
"Focus on, 'What am I doing now professionally that is rewarding to me?"' said Joseph DeMattos Jr., AARP Maryland director. "'How will I provide for the future while at the same time nourishing my soul?'"
Copyright 2018 The Lawrence Journal-World. All rights reserved. This material may not be published, broadcast, rewritten or redistributed. We strive to uphold our values for every story published.