NEWTON — The bond between parent and child is a unique one, and being able to communicate is crucial.
When children aren't old enough to speak or their vocabulary is still developing, kids can speak through signing.
Kelly Smith, a Kindermusik educator at the Joyful Noise Music Studio in Newton, teaches parents and children to sign to improve communication through a music and sign language program called "Sign and Sing," which recently met for the second time.
"This program is based on methods shown to speed language development, ease frustration and enhance both long- and short-term learning abilities," Smith said.
There are two, five-week sequential sessions she teaches with the second set (B) being offered in the spring. Set A participants who met on a recent Saturday said the children already had picked up on words and actions from the last class. Jennifer Stenzel brought her 7-month-old son Zaden back to the class and said she definitely would recommend it.
"Everything is pretty easy to remember," Stenzel said. "I'm trying to eliminate screeching and confusion by learning to communicate with the sign language instead. Zaden's real attentive to the signs, and even my 3 1/2 year old has picked some of it up."
Parents get home materials including a DVD with a signing glossary, a home activity book and flash cards on a key ring.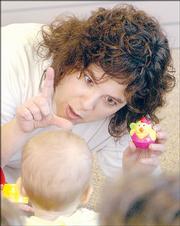 "I believe the parent is the most important teacher. Parents don't have to sign all of time," Smith said. "It's when and what, not how much, so the child becomes more likely to engage with the parent."
"More," "eat," "happy," "stop" and "ball" are just a few words they learn. Children from 6 months to 3 years old can join the class. The program was created exclusively for Kindermusik by leading experts in sign language for hearing children at Signing Smart Inc.
Their research shows that while the average 12-month-old will have three to five spoken words, the average Signing Smart child will have 25 signs and 16 words. At 18 months, the average child will have 10 to 50 spoken words, while the child who signs will have 79 signs and 105 words.
"Kids learn receptively first and then expressively. Parents need to look for an opportunity when kids are engaged, different ways to bring signing in and to use signs in different contexts and conversations," Smith said. "It needs to be integrated into the everyday routine and playtime."
The parents sat in a circle on the floor with the kids and discussed successes and observations from the past week. The class then sang songs using sign language and then broke into smaller groups to do various activities.
Copyright 2017 The Lawrence Journal-World. All rights reserved. This material may not be published, broadcast, rewritten or redistributed. We strive to uphold our values for every story published.