Seattle — The more the Seahawks tried to hand the game to the Giants, the more Jay Feely kept kicking it back.
And short. And wide.
NFC-leading Seattle survived a wild finish and an even wilder overtime to steal a 24-21 victory Sunday over New York, which had three chances to win with Feely - 23-of-25 on field goals up to that point - on the field.
The result of each belied an impressive Giants effort: Feely was barely wide left on a 40-yarder on the final play of regulation, short on a 54-yard try in overtime, and wide right and way short on a second chance in the extra period from 45 yards.
By the third miss, the Seahawks finally were ready to capitalize.
Matt Hasselbeck lofted a 38-yard pass between the Giants' zone coverages to push Seattle from its 24 to the New York 38. Then Josh Brown made a 36-yard field goal with 2:45 left in overtime.
Seattle's seventh straight victory leaves it one win or a St. Louis loss away from clinching the NFC West; the Seahawks are now 9-2 for the first time since 1984 - which is also the last time they won a playoff game. They have only one game remaining against a team with a winning record, Dec. 24 against Peyton Manning's undefeated Indianapolis Colts.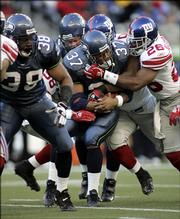 "What was it, three (misses)?" Hasselbeck said after he completed 21 of 37 passes for 249 yards and two scores and an interception.
"Shoot, I kind of think we are still in shock, really."
Not as much as New York.
The Giants (7-4) missed a chance - make that three prime chances - to become 8-3 for the first time since their 2000 Super Bowl season. Instead, they bitterly fell back into a tie atop the NFC East with Dallas, whom they entertain Sunday.
First, they'll have to get over this one.
"There is no way. I will give you my house if he misses this one," Giants runner Tiki Barber said, when asked his thoughts before Feely's third miss.
That miss wasted a 49-yard run by Barber to the Seattle 31 that seemed to seal what had already been a topsy-turvy game. Barber finished with 151 yards on 26 carries.
Immediately after the thrilling, seesaw finish, Giants coach Tom Coughlin mentioned Feely to his players in the locker room. Before Coughlin could say much, Feely stood up and spoke.
"I said, 'I'm sorry I let you down,"' Feely said.
"People are going to say it's a team game, and they're going to say the right things. But the fact of the matter is that you've got to come through when you have one opportunity - much less two good opportunities."
Even the two kicks he made earlier, from 39 and 43 yards in the second and third quarters, plopped softly just yards beyond the cross bar.
At least one of his teammates forgives him.
"Jay's my boy ... He's saved our butt three or four times," linebacker Antonio Pierce said.
"He's human. He's going to make mistakes ... he came in here, said what he had to say."
Feely's misses ruined a career day from Giants quarterback Eli Manning. In defeat, he grew beyond his 24 years and toward franchise-quarterback status of older brother Peyton. The younger Manning established career highs of 29 completions and 53 attempts. He had 344 yards passing - eight behind his career-high set Sept. 25 against San Diego - with two touchdowns.
Bears 13, Buccaneeers 10
Tampa, Fla. - There's a reason the Chicago Bears are being compared to the old Monsters of the Midway.
Alex Brown sacked Chris Simms to force a fumble that set up Chicago's only touchdown, and the Bears kept Tampa Bay out of the end zone until the fourth quarter.
The Bears (8-3) still needed some help to ensure their first seven-game winning streak since 1986, prevailing after Matt Bryant missed a potential tying 29-yard field goal attempt for the Bucs (7-4) with 2:47 to go.
Kyle Orton threw for 134 yards and a TD, and Robbie Gould kicked field goals of 25 and 36 yards for the Bears, who have their longest winning streak since the season after Chicago won its only Super Bowl title.
Jaguars 24, Cardinals 17
Tempe, Ariz. - On a day when they lost starting quarterback Byron Leftwich because of a broken ankle, the Jaguars (8-3) won their fourth straight as Derrick Wimbush returned a kick 91 yards for a touchdown, and backup quarterback David Garrard ran 16 yards for a score.
Greg Jones, subbing for the injured Fred Taylor, ran 25 yards for a touchdown to put Jacksonville (8-3) ahead 24-10 with 4:20 to play. Kurt Warner hit Larry Fitzgerald with a five-yard touchdown pass to cut the lead to 24-17 with 2:56 remaining.
Panthers 13, Bills 9
Orchard Park, N.Y. - Jake Delhomme threw a three-yard touchdown pass to third-string tight end Michael Gaines with 2:16 left to put the Panthers (8-3) on top in the NFC North. It was the only touchdown of a game dominated by defense and field goals.
The last chance for the Bills (4-7) ended when Chris Gamble intercepted J.P. Losman's throw to Roscoe Parrish in the left flat in the final minute. Parrish appeared to slip on the play, and Losman's pass was underthrown.
Vikings 24, Browns 12
Minneapolis - Brad Johnson threw three touchdown passes to Marcus Robinson, each of them set up by Cleveland turnovers, and the Vikings (6-5) won their fourth straight.
Rookie C.J. Mosley and Keith Newman both forced fumbles by Trent Dilfer with sacks, leading to Robinson's first two scores. Dilfer, who hurt his right knee in the third quarter, was replaced early in the fourth by rookie Charlie Frye - whose pass was intercepted by Darren Sharper on the first play.
Eagles 19, Packers 14
Philadelphia - Without Donovan McNabb and Terrell Owens, David Akers made four field goals and quarterback Mike McMahon played an efficient, error-free game to help the Eagles (5-6) snap a four-game losing streak.
Samkon Gado ran for 111 yards and one touchdown for the Packers (2-9), who are assured of their first losing season since Brett Favre took over as starter in 1992. That run of 13 years was the best in the league.
Rams 33, Texans 27, OT
Houston - In his first NFL action, third-string quarterback Ryan Fitzpatrick threw a 56-yard touchdown pass to Kevin Curtis in overtime to cap an improbable comeback by St. Louis.
St. Louis (5-6) rallied from a 21-point halftime deficit and scored 10 points in the final 30 seconds of the fourth quarter to force overtime.
Isaac Bruce scored on a 43-yard pass with 26 seconds left and the Rams recovered an onside kick. Torry Holt caught a 19-yard pass that set up Jeff Wilkins' 47-yard field goal, tying the game at 27 with 4 seconds left.
Chargers 23, Redskins 17, OT
Landover, Md. - LaDainian Tomlinson's 41-yard touchdown run in overtime carried the Chargers to a critical comeback victory and gave yet another former Redskins coach revenge against Washington owner Daniel Snyder.
Tomlinson broke free on the second play of the extra period. He finished with 184 yards on 25 carries and three touchdowns, including a 32-yard run that tied the game with 3:29 left in regulation.
Last week, former Redskins coach Norv Turner returned with the Raiders and got his revenge with a 16-13 victory. This week it was Marty Schottenheimer, who was fired by Washington after one 8-8 season in 2001, who handed the Redskins (5-6) their third straight loss and sixth in eight games.
Bengals 42, Ravens 29
Cincinnati - Carson Palmer took advantage of Baltimore turnovers by throwing three touchdown passes as the Bengals (8-3) jumped to a 34-0 lead.
Kyle Boller threw two interceptions and lost a fumble, helping Cincinnati move a half-game ahead of Pittsburgh in the AFC North. The Steelers play tonight in Indianapolis.
Titans 33, 49ers 22
Nashville, Tenn. - Steve McNair took advantage of a soft San Francisco pass defense to throw for 343 yards and three touchdowns in the third quarter, including two within 80 seconds, and the Titans (3-8) snapped a five-game losing streak.
Chris Brown, who hasn't rushed for 100 yards in a game this season, caught three passes for 105 yards and a TD. Rob Bironas also kicked a career-high four field goals.
Dolphins 33, Raiders 21
Oakland, Calif. - Jason Taylor had three of Miami's seven sacks, including a key safety, Gus Frerotte threw for 261 yards and two touchdowns, and the Dolphins snapped a three-game losing streak.
Saints 21, Jets 19
East Rutherford, N.J. - Aaron Brooks threw three TD passes, and New Orleans broke a six-game losing streak in its second visit to East Rutherford this season.
The Saints (3-8) lost their "home" opener here against the Giants after Hurricane Katrina devastated the New Orleans area and ruined the Superdome.
Copyright 2018 The Associated Press. All rights reserved. This material may not be published, broadcast, rewritten or redistributed. We strive to uphold our values for every story published.