Recent discussions about the body and how it can convey our social and cultural identity make use of the concept of "embodiment." Embodiment expresses the idea that the body and mind form a unity, in contrast to the notion that has prevailed in Europe and America ever since the writings of the 17th-century philosopher, Rene Descartes, that the body and mind form a duality.
Photo Gallery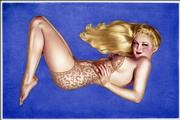 "Embodiment"
Works of art from different cultures that concern the body and its adornment offer valuable opportunities for discussing the evolving ideas of embodiment.
The wide-ranging selection of objects in "Embodiment," an exhibition on view at the Spencer Museum of Art, specifically was chosen to provoke reflection about these ideas without necessarily suggesting conclusions.
The exhibition draws from the Spencer's holdings of photographs, prints and Asian art, the Wilcox Classical Collection, and the KU Anthropological Research and Cultural Collection's holdings of Native American, Mesoamerican, African and New Guinean works.
Spencer Curator of Prints and Drawings Steve Goddard says the exhibition offers a small laboratory for thinking about the concept of embodiment.
The exhibition is on view in the North Balcony Gallery through Feb. 19.
Copyright 2018 The Lawrence Journal-World. All rights reserved. This material may not be published, broadcast, rewritten or redistributed. We strive to uphold our values for every story published.