TUCSON, ARIZ. — It took Arizona nearly a half to adjust to Virginia's zone. With the ninth-ranked Wildcats' talent, that left plenty of time for a runaway.
Chris Rodgers matched his season high with 20 points, scoring 15 in the second half of Arizona's 81-51 victory Sunday night.
Hassan Adams and Mustafa Shakur scored 14 each. Adams, who also had nine rebounds, had 12 points during a 29-1 run that began late in the first half and blew open a tight game.
"It was all about our intensity level," Rodgers said. "We tend to come out sluggish in games. I wanted to set the tone and get the crowd into it. We definitely are a second-half team. We have to learn to become a first- and second-half team."
The Wildcats went into their home opener in a two-game skid, losing to Connecticut and Michigan State in the Maui Invitational after an opening victory over Kansas. They also were intent on avenging a 78-60 loss at Virginia last season, their worst offensive effort since scoring 60 in a loss at Michigan State on Dec. 15, 2001.
Sean Singletary had a season-high 24 points, and Adrian Joseph had 12, but it wasn't enough to help the Cavaliers (2-1) win their first three for a sixth consecutive year.
J.R. Reynolds, Virginia's top scorer, went 3-for-14 and missed one of two free throws - part of the reason Arizona reversed the outcome on the Cavaliers, who hadn't allowed more than 44 points in a game coming in.
"We've got to put a lot on those two guys, and we just can't afford to have either one of them have a bad game," Virginia coach Dave Leitao said. "J.R. had a bad night, and we've got to get him back and refocused."
Reynolds, guarded by Rodgers, had five turnovers, and Singletary committed nine on Shakur's watch, totaling more than half of the Cavaliers' 24 giveaways.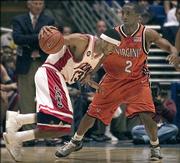 "That gives you an idea how tough our guards were on their perimeter guys," Arizona coach Lute Olson said.
Adams, who was 2-for-10 at halftime, made his first five field-goal attempts in the second half.
The last one opened a 49-29 lead with 14:20 remaining.
Rodgers capped the run - which included a 20-1 start to the second half - with a 15-foot jumper 1:05 later. Joseph broke an 0-for-10 spell by the Cavaliers to start the half with a basket with 12:28 left in the game, and Singletary added a jumper and two free throws to get Virginia within 51-35 with 11:11 left.
No. 4 Villanova 84, Lehigh 47
Villanova, Pa. - Allan Ray set Villanova's individual three-point record with eight and scored 26 points, and the Wildcats also set a team mark with 17 threes in a victory over Lehigh. Randy Foye sank five threes and scored 21 points, Mike Nardi had four threes and 14 points, and Kyle Lowry added 12 points for the Wildcats (2-0).
No. 12 Michigan St. 84, IPFW 73
East Lansing, Mich. - Paul Davis had 30 points and 14 rebounds, and Maurice Ager added 20 points for the sluggish Spartans (3-2), who returned home after playing the equivalent of 41â2 games in five days in Hawaii. Justin Hawkins led the Mastodons (1-3) with 13 points.
No. 23 Maryland 88, Nicholls State 56
College Park, Md. - Chris McCray scored 20 points, and Maryland opened the second half with a 16-0 run to breeze past Nicholls State. Two days after returning from Hawaii, where they played three games in less than 48 hours at the Maui Invitational, the Terrapins (4-1) endured a sluggish first half.
Copyright 2018 The Associated Press. All rights reserved. This material may not be published, broadcast, rewritten or redistributed. We strive to uphold our values for every story published.