Freeport, Bahamas — Freshman Erika Arriaran scored 15 points, and Tiffany Jackson added 14 points and 11 rebounds to lead No. 18 Texas to a 59-54 victory over George Washington and a share of the Junkanoo Jam championship Saturday.
Arriaran, the centerpiece of coach Jody Conradt's largest-ever recruiting class, tied the game at 36 with two free throws and then added consecutive three-pointers that gave the Longhorns (3-1) the lead for good at 46-43 with less than five minutes left.
George Washington (2-1) never got closer than three points the rest of the way.
Texas won the Lucaya Division of the eight-team holiday tournament. Crystal Boyd held the trophy of lacquered shells and starfish - it is the Bahamas, after all - aloft as her Longhorn teammates shouted and cheered. Jackson was the division's MVP.
Kimberly Beck scored 13 points for George Washington, which beat No. 18 Purdue on Friday. The Colonials shot 4-for-14 from three-point range and 8-for-17 from the line.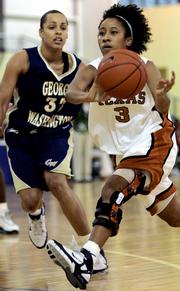 No. 5 Baylor 75, California 58
Cancun, Mexico - Sophia Young had 12 points and 15 rebounds, and Baylor extended the nation's longest winning streak to 25 with a victory over California in the Caribbean Classic. Angela Tisdale added 16 points for Baylor (5-0), which hasn't lost since being defeated Jan. 22 at Texas.
Alexis Gray-Lawson led California (4-2) with 21 points.
No. 17 DePaul 84, Texas A&M; 71
Honolulu - Khara Smith had 16 points and 14 rebounds, leading DePaul into the championship game of the Rainbow Wahine Classic. The Blue Demons (4-0) shot 54 percent in the game, often pounding the ball in to the low block.
Danielle Gant led the Aggies (2-1) with 19 points and eight rebounds. Tamea Scales added 13, and Morenike Atunrase had 11.
No. 22 Oklahoma 53, San Francisco 51
San Francisco - Leah Rush scored 17 points, and Kendra Moore made a key steal as Oklahoma (5-1) won the Odwalla Classic title.
Lisa Olden came off the bench to score a season-high 15 points and grab a career-high nine rebounds for San Francisco (1-3), and Dominique Carter added 10 points.
Oklahoma freshman Courtney Paris was held to 12 points and six rebounds - well below her averages of 23.6 points and 13.6 rebounds.
Copyright 2017 The Associated Press. All rights reserved. This material may not be published, broadcast, rewritten or redistributed. We strive to uphold our values for every story published.