Delphos — Her knees were "shaking like a jackhammer." And she was wondering whether she could do what was being asked of her.
It was about 1941 when the then-young Baldock heard a deep voice calling for a welder. She was the first to respond.
The job the man needed done was an overhead weld - something Baldock had never done.
After having completed a couple of weeks of training, Baldock had been working at the shipyard in Portland, Ore., for only a couple of days.
"I was thinking, 'Holy Cow. If this weld doesn't hold, this will fall and I'll kill a bunch of people,"' Baldock said.
"My knees started shaking like a jackhammer, and I welded it. It held."
Baldock, now 85 and living in Delphos, said she was never nervous about going to work at the shipyard during World War II.
She, her husband at the time and her two small children moved from Montana to Portland to find work.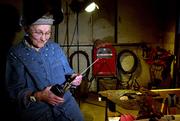 Baldock, who was about 20 at the time, had never had a job outside the home. She said she had no trouble finding work, as so many men were fighting in the war.
"We very quickly had 11 to 12 million men in uniform overseas, and they had vacated jobs that had previously only been held by men," said Mack Teasley, director of the Eisenhower Foundation in Abilene and former assistant director of the Dwight D. Eisenhower Library.
"Someone had to pick up the slack doing welding jobs and tank assembly and truck driving. Women answered the call."
He said they exceeded many people's expectations.
"When the men came home, the women were expected to go back to being mothers and housewives," Teasley said.
"The reality is, from that point on, we had more and more women in the work force."
It has been argued that World War II was won because of weaponry and supplies, Teasley said.
"If the U.S. won the war because of its weaponry and it was women at home building those weapons, you could say, that by extrapolation, they won the war for us," Teasley said.
Baldock was told she could get a job doing welding on tanker ships if she would attend welding school for a couple of weeks and buy the necessary clothing.
She bought the clothing, attended the welding school and was sent to work.
"I guess I always liked to the things that boys or men did, so this was a chance to do that," Baldock said.
Her children, who were 4 or younger at the time, stayed with one of her nephews while she worked. Leaving the children every day was perhaps the hardest part, Baldock said.
Another difficult part was working the graveyard shift.
Though she worked at the shipyard for only a year or so, Baldock said she would always remember the experience.
"I wasn't Rosie the Riveter, but I was Thelma the welder," she said. "I felt like my job was important, that I was helping with the war."
Her marriage ended shortly after the war, and Baldock moved back to Kansas.
There, she married Lamoine Baldock, a farmer she had gone to school with years before. The two of them had another child. And Baldock was able to keep welding. Lamoine Baldock used to do custom combining, and Thelma would help get the equipment ready.
Once Lamoine learned to weld, she lost her "job," she said. She still can weld, though. And she does once in a while just to practice.
Baldock said a stroke has left her shaky, and her welds are not nearly as good as they used to be. It's still good enough to attract attention, though.
At a farm show in Salina earlier this year, she stopped by a welding booth and told the salesman all about her shipyard experiences during the war.
"He handed me a helmet, and I welded. It attracted some attention from people who couldn't believe an 84-year-old woman was welding," she laughed. "The bead was as crooked as a dog's hind leg. I wasn't proud of that weld."
Copyright 2018 The Associated Press. All rights reserved. This material may not be published, broadcast, rewritten or redistributed. We strive to uphold our values for every story published.