Norman, Okla. — After waiting weeks to get back into Oklahoma's lineup, Adrian Peterson needed just a little more patience to get himself a big rushing day.
Peterson ran for a season-high 237 yards, including two long touchdowns in the second half, and Rhett Bomar threw three TD passes to lead Oklahoma to a 42-14 victory over Oklahoma State on Saturday.
The Sooners' third straight win in the Bedlam rivalry was lackluster until Peterson, the Heisman Trophy runner-up last season, livened things up with an 84-yard touchdown run in the third quarter.
Peterson ran around the right end of the line, passed two downfield blocks and sped into the end zone untouched on the longest run of his career and a 28-7 lead.
"I just slowed down and took my steps," Peterson said. "Actually, the hole, you could have run a diesel through it, it was so big."
His previous longest run was an 80-yard score against the Cowboys in the Sooners' 38-35 victory last year in Stillwater.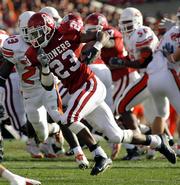 Peterson said his running backs coach, Cale Gundy, was telling him to keep grinding for yards and eventually it would pay off. He had only 27 yards on 11 first-half carries, then set an Oklahoma record for rushing in a half with 210 yards.
"The holes opened up, and I just popped 'em," Peterson said.
After Julius Crosslin's second short touchdown run pulled Oklahoma State (4-7 overall, 1-7 Big 12 Conference) back within 28-14, Peterson responded on Oklahoma's next offensive play with a 71-yard run down the left side.
Bomar added a 55-yard touchdown pass to Manuel Johnson to extend the lead to 42-14. He finished with 206 yards on 13-for-21 passing with one interception.
By winning the rivalry's 100th game, Oklahoma (7-4, 6-2) now holds a 77-16-7 edge in the series.
Copyright 2018 The Associated Press. All rights reserved. This material may not be published, broadcast, rewritten or redistributed. We strive to uphold our values for every story published.