Beijing — A strong earthquake struck central China on Saturday, killing at least 15 people, injuring more than 450 and destroying hundreds of buildings, the government said.
The official Xinhua News Agency said the magnitude-5.7 quake hit Saturday morning and was centered in central Jiangxi province's Ruichang city near the border of Hubei province. The U.S. Geological Survey reported the quake had a magnitude of 5.5. There was no immediate explanation for the discrepancy.
Most of the damage occurred in Ruichang and in the popular resort town of Jiujiang, it said.
In their village near Ruichang, Zhang Xuping and his family dashed from their home as soon as they felt the ground shaking. Minutes later, their neighbor was killed and buildings near them collapsed.
"I felt very strong shocks, lasting about six to seven seconds," Zhang said in a telephone interview today. "We fled immediately."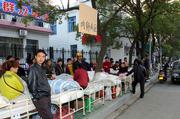 Authorities told villagers not to stay indoors Saturday but had not provided any more information or assistance since, he said.
"We cut wood to build shelters," Zhang said. "All of the people in the village stayed outdoors last night."
Many people in Ruichang, which has a population of about 420,000 people, were staying outside for fear of more aftershocks, and 1,000 tents were being sent to the area, Xinhua said.
Copyright 2018 The Associated Press. All rights reserved. This material may not be published, broadcast, rewritten or redistributed. We strive to uphold our values for every story published.