A first-generation Vietnamese-American, Frank Tra grew up learning English from the comic books his father bought for him.
They helped. Tra, 27, recalls using a lot of big words as a kid and winning spelling bees.
As a Kansas University student, Tra has turned to creating comics. His first book, "The Killers: War's End," will be released in January by Speakeasy Comics.
It's a way for Tra, who recently moved from Lawrence to Wichita, to stay close to his hobby.
Tra is finishing KU's pharmacy program. He's also a wrestling coach.
"While I'm young and have the energy, I want to do everything," he said.
Tra doesn't write for money. Whatever sum he earns, he plans to put back into his hobby, he said, or maybe a new computer.
Tra always wanted to try a hand at writing comics, but for a while he didn't feel like he'd had enough life experience.
"I felt I was ready," Tra said. "I felt it would be a good challenge."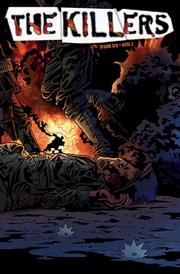 Tra linked up with a Canadian artist who calls himself "Eric Z." over the Internet. Eric Z. manages a fast-food restaurant and draws on the side.
"You've just got to find the right partner," Tra said. "Sometimes the artists flake out on you. We clicked."
Together they devised the comics about soldiers roaming the countryside and continuing to fight after the end of WWII.
Tra already is considering other comics in other genres, such as mystery or science fiction.
"Whatever idea comes to us," he said. "Whatever inspires us ... If we have a story to tell, why not tell it?"
Copyright 2018 The Lawrence Journal-World. All rights reserved. This material may not be published, broadcast, rewritten or redistributed. We strive to uphold our values for every story published.