Rafah Terminal, Gaza Strip — It was a smooth debut Saturday for the first Palestinian-run border. Hundreds of travelers zipped through passport control without having to submit to Israeli security checks, savoring their new freedom after 38 years of military occupation.
The West Bank also witnessed a milestone: corruption-tainted veterans of Palestinian leader Mahmoud Abbas' ruling Fatah movement were swept aside by younger activists in Fatah's first primary, signaling a change of generations and the rise of jailed uprising leader Marwan Barghouti.
The opening of Gaza's gate to the world and the revamping of the movement that was founded by Yasser Arafat could boost Abbas' chances of beating back a challenge by the Islamic militant Hamas in Jan. 25 parliament elections.
At noon Saturday, the Rafah terminal on the Gaza-Egypt border opened for the first time since Israel's pullout from the coastal strip in the summer. Under a U.S.-brokered deal, the Palestinians are in charge, with backup from European monitors. Israel watches over closed-circuit TV, but cannot veto travelers.
Jihad Zanoun, 30, a government employee, was the first to cross. "It is the beginning of a new era that will open a new horizon for me," said Zanoun, who was visiting relatives in Egypt.
The border was open for just four hours Saturday - a day after Palestinians took control with an inauguration ceremony - to give European monitors more time to settle in, but it will eventually operate around the clock.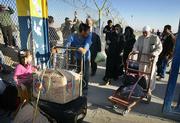 European officials said 1,587 people crossed on the first day.
"We are extremely happy," said Cristina Gallach, spokeswoman for European Union foreign policy chief Javier Solana. "It has gone very smoothly."
For fenced-in Gazans, the opening of the border between Gaza and Egypt marked the most dramatic improvement in their lives since Israel withdrew from the coastal strip in September.
Before the pullout, security checks at Rafah - meant to stop militants and weapons smuggling - often caused delays of hours or days. During the last five years of fighting, Israel also imposed travel restrictions on Gazans between the ages of 18-45, and most couldn't leave.
Starting in mid-December, Palestinians also will be able to travel between the West Bank and Gaza for the first time in five years, at first in Israeli-escorted bus convoys. Construction is to begin on a Gaza seaport, and the United States has urged Israel to reach quick agreement with the Palestinians on reopening Gaza's international airport.
Copyright 2018 The Associated Press. All rights reserved. This material may not be published, broadcast, rewritten or redistributed. We strive to uphold our values for every story published.