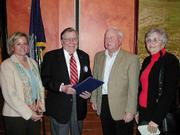 Bob Stephens is the winner of the Lawrence Rotary Club's Non-Rotarian Paul Harris Fellow Award.
Stephens, president and chief executive officer of Lawrence-based Stephens Real Estate Inc., received the annual award Monday. Pictured, from left, are Stephens' daughter, Denise Kahler; Glee Smith; Stephens; and Stephens' wife, Mary Kay Stephens.
The award recognizes excellence in a business or profession, and community service.
Stephens moved to Lawrence in the 1960s, founded Stephens Real Estate and has worked to develop a variety of projects and neighborhoods in Lawrence. He currently serves as capital campaign chairman for the Salvation Army, and has served in leadership roles with the United Way of Douglas County, Lawrence Memorial Hospital Board of Trustees, Douglas County Development Inc. and the Lawrence Chamber of Commerce.
Copyright 2018 The Lawrence Journal-World. All rights reserved. This material may not be published, broadcast, rewritten or redistributed. We strive to uphold our values for every story published.