Entering motherhood wasn't easy for Amber Fraley.
"Becoming a mother was like getting hit over the head with a 2-by-4," Fraley says. "It was a huge life-changing experience."
Shortly after her daughter, Jordan, was born three years ago, Fraley realized she needed other motherly friends - ones to bounce ideas off of, to vent about her daughter's behavior to or to share the good milestones of growing up.
So she and Jordan started attending play groups organized by Moms Offering Moms Support (MOMS). Now, while Jordan plays, Fraley talks with other mothers - most of whom don't work outside the home - about behavior, sleeping issues, nutrition or whatever else is on her mind.
Fraley eventually moved up in the organization's south branch. Another group of mothers who live north of 15th Street also get together throughout the week.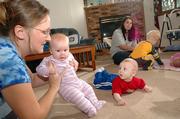 "Being a stay-at-home parent can be very lonely, and it can start to drive you nuts," Fraley says. "You love your kids, and they're wonderful and beautiful. But if you have an entire week of them not behaving very well, you can have the patience of a Buddha and deal with it for several days, but eventually you feel like you're going to go crazy."
Play groups are becoming more popular as stay-at-home parents, and particularly mothers, look for ways to connect with the outside world.
"Motherhood is a crash course in fear, vulernability, isolation and self-doubt," says Harriet Lerner, a Lawrence clinical psychologist and best-selling author. "Nothing is more important than connecting with other mothers who will provide you with adult company and, if you're lucky, tell you truth about their own experience."
Lerner, author of "The Mother Dance," says finding the right play group is key. She says to avoid mothers who are judgmental or arrogant.
"Pay attention to whether the group enhances your sense of competence and worth - or does the opposite," Lerner says. "Don't stay in a play group - or any group - that leaves you feeling down."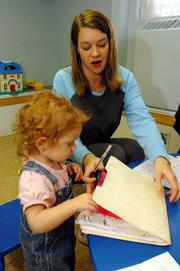 Most of the groups are as much about giving mothers a place to vent as they are giving toddlers playmates, says Angie Lewis, coordinator for the Parents as Teachers program in Baldwin, which organizes three play groups weekly.
"I think parents are looking for connections to community as well as parental support - just someone to bounce ideas off on things like sleep, eating, discipline, those things," Lewis says. "Even the good old problem of temper tantrums."
Informal groups
The gatherings vary in their formality.
Some, like the Baldwin groups, occasionally schedule sing-alongs or craft times. Most of the time, though, mothers just chat while their children play.
"We just talk about the different things the kids are doing, the struggles and get insight and advice," says Amy Anderson, a mother of 3-year-old twin boys. "You see if anyone has advice. Most everyone identifies with what you're going through. It's things like nutrition, discipline or potty training."
Places to play
Several play groups and other playtimes are available in Lawrence and through the area. ¢ Moms Offering Moms Support (MOMS) offers two organized groups - one north of 15th Street, the other south of 15th Street - for mothers. For more information, call (800) 545-3315. Play groups and other outings are scheduled throughout the week. ¢ Baldwin Parents as Teachers offers a play group from 9:30 a.m. to 10:30 a.m. Tuesdays and Fridays, and from 1 p.m. to 2 p.m. Thursdays at the Family Resource Center, 416 Quayle. For more information, call (785) 594-7050. ¢ Parents also frequently gather at open gymnasiums set up for toddlers. One free option is from 10:30 a.m. to noon Monday, Wednesday and Friday at the Lawrence Community Building, 11th and Vermont streets. ¢ Another option is available for a fee is at the Lawrence Gymnastics Academy, 4930 Legends Drive, which offers open gyms from 10 a.m. to 11:30 a.m. Fridays, 12:30 p.m. to 2 p.m. Saturdays and 11:30 a.m. to 1 p.m. Tuesdays and Wednesdays.
Some of the groups are even less formal. One play group that recently disbanded, called Mommie & Me, met at the organizer's house, at a park or at other outing locations.
For Michelle Rautmann, mother of a 2 1/2-year-old boy and a 9-month-old girl, the group provided a way to make connections. She started attending in September, just after she moved to Lawrence.
"We don't get out much," Rautmann says, "so I needed a venue to meet people."
Other mothers opt to meet their counterparts at open gymnasiums, where toys are available for youngsters to play. Options are available at the Lawrence Community Building, 11th and Vermont streets, and the Lawrence Gymnastics Academy, 4930 Legends Drive.
'Wouldn't have made it'
Many stay-at-home mothers are looking to combat loneliness by signing up for play groups.
"Giving up a career, you need some stimulation more than watching 'Barney' and playing with Barney," says Tracey Kastens, a mother of two who attends the local MOMS group. "It was great to get out and talk to other mothers."
The MOMS group, the largest in town with around 100 members, plans a variety of outings for children and their parents. Popular destinations are the wading pool in South Park, the Kansas City Zoo and the Kansas University Natural History Museum.
The groups are a godsend to mothers who otherwise wouldn't have connections to the outside world, says Shanaye McBride, mother of a 2-year-old girl, who attends the Baldwin play groups.
"To be honest with you," she says, "if I didn't have the play group, I wouldn't have made it as a stay-at-home mom."
Copyright 2018 The Lawrence Journal-World. All rights reserved. This material may not be published, broadcast, rewritten or redistributed. We strive to uphold our values for every story published.