In its 23 years, Lawrence's Community Bible Church had never launched a search for a new pastor.
The Rev. Chuck Thomas, the church's founder, had led the congregation for its entire history.
So when Thomas and the church's board of elders decided in January it was time to bring in new blood, the nondenominational church's members were left with a huge challenge.
They weren't looking for a new secretary or bookkeeper.
They needed to hire a spiritual leader.
"None of us had been through this before," says David Barfield, one of six elders at the church, 906 N. 1464 Road.
Unlike denominational churches, which often have regional boards either assigning new pastors or providing a pastoral pool to choose from, unaffiliated churches are on their own when it comes to hiring someone new.
And with new nondenominational churches sprouting up all the time, it's a challenge more congregations will be facing.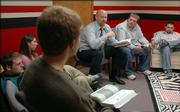 "You feel like you're out in the middle of the ocean," says the Rev. Pieter Willems, senior pastor at Mustard Seed Christian Fellowship, 700 Wakarusa Drive.
At Community Bible Church, the process of hiring a new pastor started late last year.
Barfield says the board of elders and Thomas, the church founder, came to the conclusion that bringing in a new pastor could energize the congregation, which Barfield says had become "a bit complacent or comfortable with who we were." Sunday attendance had dwindled to around 100 from a height of around 180.
Thomas stepped down as pastor in January and distanced himself from the elders, so they could make an independent decision on the new pastor.
Before seeking applications, the elders and others in the church spent time writing a document they call their "core values," designed to help find the right leader. Those values include teaching the Bible, meeting members on days other than Sunday, doing missions and finding ways to be relevant to a modern culture.
"I don't think we were going a different direction," Barfield says. "What we're doing is looking very carefully at how we move to that direction."
New hire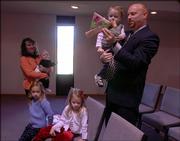 The church's elders and a five-member search advisory committee then began spreading the word that they had a pastoral opening.
They contacted about five seminaries with beliefs similar to theirs. The seminaries distributed information about the church to their alumni and students. About 40 applications arrived in the mail.
"We were very pleased," Barfield says. "We're a small church, and we were pleased with the number of applications and the quality of the applicants."
The elders picked three finalists for phone interviews. They eventually settled on a new pastor - the Rev. Shaun LePage, who was officially inducted as pastor Nov. 13.
LePage is a graduate of Dallas Theological Seminary - the same school Thomas attended - and who had been an associate pastor at a Bible church in Dallas for 14 years.
Transition time
Then it was up to the veteran pastor and new pastor to make the transition.
LePage says he thinks having a strong elder board has made for an easier transition.
"Part of that is you don't have a pastor who is king of his kingdom," LePage says. "You have a board that shares responsibility. One man doesn't have all the burden or take all the credit."
Thomas, who now is working in construction and wants to do more international mission work, agrees. He plans to continue worshipping at Community Bible church.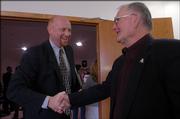 "This is the Lord's church, not Chuck's church," Thomas says. "I really believe that's true. It doesn't exist because I have a great personality or leadership."
Much at stake
Changing pastors at nondenominational churches can be a painful process, says Aubrey Malphurs, pastor of pastoral ministries at Dallas Theological Seminary and a church consultant.
Community Bible Church used Malphurs' book, "Values-Driven Leadership," as a guide in its pastoral search process.
"If that's not done well, churches can go into decline and can die," Malphurs says. "You're dealing with the issue of leadership. A church rises or falls on leadership. If it makes a mistake, it can set them back years."
Malphurs says planning ahead - if possible - is key. If a church knows its pastor wants to step down in the next few years, he suggests hiring a new pastor early to allow for a smooth transition.
He says completing a detailed inventory of a church's ministries, values and vision is key in the search process.
"I think you've really got to look at the church," he says. "Each church is unique and different."
'Difficult' process
Some churches avoid conflicts by selecting "home-grown" pastors. Willems, for example, took over for his father as pastor at Mustard Seed Christian Fellowship.
"You could become a little in-grown," Willems says. "You can possibly have some of that danger. But it makes for a smoother transition for a congregation."
The Rev. James Taylor, pastor at Lawrence Heights Christian Church, 2321 Peterson Road, says the Internet has helped nondenominational churches spread the word about pastoral openings.
That often leads to more candidates. But since not all of those candidates are qualified, it places a heavier burden on congregations to check references and backgrounds.
"It's difficult sometimes to get really accurate information, because there's no denominational headquarters," Taylor says. "The difficult part is narrowing it down to the right person and making sure it's a good fit between you and the person."
Barfield says for having no experience with pastoral searches, he's pretty sure Community Bible Church found the right man for its job.
"Time will tell," Barfield, "but I'm pretty confident this was a successful process."
Copyright 2018 The Lawrence Journal-World. All rights reserved. This material may not be published, broadcast, rewritten or redistributed. We strive to uphold our values for every story published.