Boulder, Colo. — They call it Big Red Week in Colorado. The Nebraska jokes are flying and all the vitriol and hype that goes along with the biggest game on CU's schedule is in full force.
If only the Huskers would play along.
Sure, Nebraska is going to a bowl this year, but that's about the best thing that can be said about a program that isn't what it used to be.
The Cornhuskers (6-4, 3-4 Big 12) bring one of their worst teams in a generation to Boulder today, a two-touchdown underdog in a game that means everything to the Buffs but would do little more than dress up a difficult season for Nebraska.
"I see our team becoming better, being more consistent, closing the gap in a lot of areas," Nebraska coach Bill Callahan said, not exactly evoking the words of Tom Osborne or Bob Devaney.
Colorado (7-3, 5-2 Big 12) needs the victory to sew up a spot in the Big 12 title game. A loss would leave the door open for Iowa State to make it by defeating Kansas University on Saturday.
Clinching their fourth trip to the title game in five years against their archrival would make it that much sweeter for the Buffs. But honestly, it's kind of hard to hate Nebraska this season.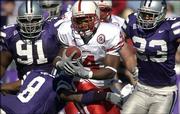 They have ranged from inept (in an ugly 7-6 win over Pittsburgh), to pathetic (in their first loss to Kansas in 36 years) to embarrassing (Callahan's throat-slash gesture that brought a reprimand from Big 12 officials).
As was the case last season, when they went 5-6 and missed the postseason for the first time in 36 years, many have wondered if the West Coast offense run by Callahan is really what this program ought to be doing.
They do, after all, live in Nebraska, where homegrown linemen had long made the roster and carried the day.
It has taken Colorado nearly a quarter century to pull even with Nebraska, dating to the time when Buffs coach Bill McCartney pronounced, over the snickers from his own fans, that the Cornhuskers were the main rival to the struggling program he inherited.
"The reason was, if we're going beat them, we're going to have to recruit like they do, practice like they do, have facilities like they have," McCartney explained this week.
These days, though, nobody tries to emulate the Cornhuskers.
That they are a 14-point underdog to the Buffs, a team they used to take for granted, is one startling symbol as to how far things have fallen. That they are playing the role of spoiler is yet another statement about where the program is.
"Our motivation is really internal," Callahan said. "This is a team that loves to play football and that loves to win. That is always our goal here and that is always our motivation to win."
Copyright 2018 The Associated Press. All rights reserved. This material may not be published, broadcast, rewritten or redistributed. We strive to uphold our values for every story published.