Chicago — A commuter train slammed into five cars trapped in rush hour traffic at an Elmwood Park, Ill., crossing Wednesday night, causing a thunderous chain reaction that tore several vehicles apart and left 16 people injured, three critically.
The area around the wide, diagonal railroad crossing was littered with glass, broken rearview mirrors, twisted metal and rubber hoses. Witnesses heard a deafening metallic screech as the train pushed one car for nearly a block. Another car burst into flames, and nearby motorists pulled the driver to safety.
Residents and Elmwood Park officials said this intersection, just west of a traffic light, has long been problematic, with motorists routinely trying to squeeze across the tracks as the gates are coming down.
"People violate the gates constantly," said Elmwood Park Fire Chief Michael Marino. "I see cars, kids on bikes, motorcycles, ladies with shopping bags going under the gates when a train is coming. My opinion is that someone tried to beat the gates and people followed him and then this is the consequence."
The train crosses four-lane Grand Avenue at an angle, making the crossing unusually long. Signs above the site warn motorists: "Long Crossing. Do Not Stop on Tracks."
Witnesses said eastbound traffic was gridlocked from the traffic light all the way back across the train tracks.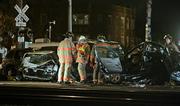 "There's warning signs all over the place that they shouldn't cross," said Elmwood Park Mayor Peter Silvestri. "But if the traffic is backed up, they'll continue to go across tracks when they shouldn't."
Officials with Metra, the region's commuter rail operator, said an express train going through this area would normally be traveling an average of 68 mph.
Metra spokeswoman Judy Pardonnet said the train - one locomotive and six passenger cars - left Chicago's Union Station at 4:25 p.m. heading toward Antioch, Ill. She said the train typically carries about 500 passengers, but it wasn't full. Only three people on the train were injured.
Pardonnet said the train's engineer is a 30-year veteran. She said that as he approached the intersection, he could tell there were cars on the tracks.
"At that point, he wouldn't know if cars were attempting to go around the gates or if the gates were not functioning, but he put the train in emergency stop," Pardonnet said.
She said the engineer would not be tested for drugs because tests are not administered unless there's a reason to believe rules were violated.
Mike Stead, rail safety program administrator for the Illinois Commerce Commission, said officials had contradictory eyewitness accounts about whether the crossing gates were functioning properly - or even if they were up or down at the time of the collision.
Copyright 2018 The Lawrence Journal-World. All rights reserved. This material may not be published, broadcast, rewritten or redistributed. We strive to uphold our values for every story published.