It's the season to roll out the welcome mat and deck the house with twinkling lights and wreaths.
But while it is that time of year when you want your haven to ooze with holiday delights, there is a slippery slope here.
In holiday decorating the goal is to fashion a warm and alluring atmosphere while teetering on the grandiose. What is best to avoid is your home looking like a giant snowball blew up inside or that you alone are keeping the electric company in business.
It is easy to let our enthusiasm for the holidays make us overzealous in buying every little plastic, inflatable or glittery item. Pull in the reins, back away from the artificial, and embrace the natural beauty that Mother Nature has so aptly provided.
For some natural-looking holiday decor ideas, I contacted Jerry Bolduan, owner of Green Valley Growers in Sebastopol, Calif. Bolduan is not only a grower of some of the most astonishing flowers and blooming branches in the United States, he also is one of Martha Stewart's creative confidantes and design gurus.
Bolduan and his longtime companion, Peter Cerda, who died soon after the business boomed, dove into the flower circuit by happenstance.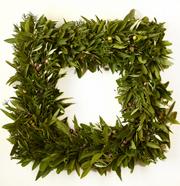 "Nineteen years ago I bought a weekend home that was an old apple orchard," Bolduan recalls. "Peter had a horticulture degree and was a landscaper. He thought it would be a wonderful place to start growing our own plants."
Their endeavors blossomed, and soon the two were peddling their wares at the famed San Francisco Flower Market. They had established a strong following of consumers, and then one day Stewart meandered into the Green Valley Growers stand.
"She had very large diamonds in her ears, I remember," Bouldan says. "She was commenting on our hydrangeas and how incredible the colors were. I had no idea who she was - this was before she became a household name. She later called to ask if we did Christmas decorations and arranged to come out to the farm."
From that August on, Green Valley Growers has participated in every Christmas with Stewart, either in print or on television. In fact, the book "Great American Wreaths: The Best of Martha Stewart" which was published in 1996, features at least 40 designs by Bolduan. He's also provided floral inspirations for Pottery Barn, Architectural Digest, Food & Wine and other publications.
Bolduan creates a permanent muse by surrounding himself with beauty and finding splendor in the ordinary, even for the holidays.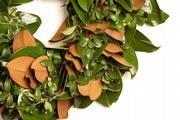 Trends
Della Robia, which is a type of Italian floral design with fruits on the branches, are popular this holiday season, Bolduan says. He also has inspired ideas for mistletoe.
"Mistletoe is a parasite that grows in trees and strips them of their leaves," he says. "If you take that bare branch, at the end of the branch is the mistletoe, growing in a ball. I cut the branch and put a bunch of those in a vase."
It's a funky and unique way to display the traditional holiday plant, but beware: The berries are poisonous.
Use textures like mossy twigs, smooth, shiny magnolia leaves and spiky long needles on pines, altering textures so it illuminates your arrangement.
Wreaths
Some of the floral fusions that Bolduan suggests are using Acacia Balleana, where the buds appear purple with silver leaves, and intermingling it with Olympic Cedar, which has short, blue needles. This creates an Asian-inspired look that is puffy and round with blue-purple tones.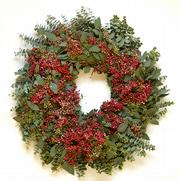 Another flora combination is Santolina, a perennial with yellow flowers, and seeded eucalyptus along with foliage from Dusty Miller; it will emerge white and give the appearance of snow.
Bolduan thinks that Oak Lichen branches and Acacia Balleana create the longest-lasting wreaths he has ever seen; a neighbor kept his for 15 years.
Square wreaths also have become quite trendy, Bolduan says.
"The square wreath is wonderful - it gives a window a tailored look," he says. "But, be sure to make it full on both sides so it will look great from every angle. As for round, one way I choose to utilize the shape is placing them over a hurricane (lamp) or candle on a table."
Trees
Bolduan suggests getting a large tree and cutting all of the lower growing branches, up to the first 4 feet. Use those clippings for swags or wreaths or the mantel. By trimming the tree in this style it creates a very architectural look, he says, plus it is great for large packages that sit under the tree, errant cats and small children.
If you have a very large room, Bolduan advises to set your tree in the middle of the room and back the sofas and chairs under the tree with the backs of the furniture under the boughs. This way when you look up it is like you are sitting in your own personal forest.
Last, Bolduan offers a suggestion on lighting: "I put my white lights on a dimmer so they do not appear so stark and white; this way, they give off more a candlelight glow."
So, kick up your heels and invite nature into your home this holiday season. It'll look both natural and classy.
Copyright 2018 The Lawrence Journal-World. All rights reserved. This material may not be published, broadcast, rewritten or redistributed. We strive to uphold our values for every story published.