Norman, Okla. — Two games into the season, fifth-ranked Oklahoma already is having to prove its offense isn't one-dimensional.
Against unranked Binghamton, Oklahoma had to rely on its outside shooting instead of its strong inside game in an 88-60 victory Wednesday night.
With Oklahoma's inside game limited in the first half because of Binghamton's collapsing zone defense, the Sooners were forced to produce from the outside. Michael Neal and David Godbold hit four three-pointers each and combined to shoot 8-of-16 from long range while the Sooners shot 55 percent from three-point range.
OU came from behind early, with Godbold hitting his first of four three-pointers to tie the game. Neal helped Oklahoma close out the half on a 26-9 run, hitting all four of his threes during the final 4:19 of the half.
"He's learning how to play out there," Oklahoma coach Kelvin Sampson said of the junior-college transfer. "He's really getting better. Sometimes when you're a good shooter, you rely on that too much. But he's a good basketball player, and he's going to keep improving."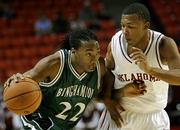 Taj Gray, the preseason Big 12 Player of the Year, finished with 14 points, but was limited to 21 minutes due to foul trouble. Gray picked up a technical on a first-half dunk after he lingered on the rim too long and the official said he heard Gray say something on the way down.
"It wasn't really easy to get in the flow, I just had to try something different," said Gray, who scored eight points in Oklahoma's opener. "Last game, I didn't come out with a lot of energy. This game I tried to come out with a lot of energy and aggression. I just tried to change the way I play."
As he did in a 68-41 victory over Samford, Sampson again played 11 players, with all but one scoring.
Andre Heard, from nearby Oklahoma City, led the Bearcats with 18 points on 5-of-16 shooting. Guard Mike Gordon scored 14 points for Binghamton.
Gray, Godbold and Neal each scored 14 points to lead Oklahoma, which entertains Belmont on Saturday night.
Kansas St. 68, New Mexico 56
Manhattan, Kan. - Cartier Martin had 22 points and 11 rebounds as the Wildcats rallied from an early 16-point deficit to beat the Lobos.
David Hoskins, a junior college transfer, added 17 points, including 10 straight at one point to help the Wildcats overcome a 35-26 halftime deficit.
New Mexico (3-1), which hit 56 percent of its shots in the first half and was 6-of-10 from beyond the three-point arc, struggled from the field over the final 20 minutes. The Lobos missed all 11 of their second-half three-point attempts as Kansas State turned up the defensive pressure.
Kansas State (2-0) got off only three shots in its first nine possessions as New Mexico raced to a 13-1 lead in the game's opening minutes.
Texas Tech 83, Furman 74
Lubbock, Texas - Drew Coffman and Martin Zeno scored 22 points as the Red Raiders snapped a two-game losing streak..
Coffman had six three-pointers and played the entire game for Texas Tech (2-2), which was tied with Furman (1-2) at halftime before pulling away behind 21 second-half points from Zeno.
Eric Webb's two free throws closed Texas Tech's lead to 63-59 with less than six minutes left, but Zeno scored 11 straight points for the Red Raiders to stretch the lead to nine with 2:18 remaining.
Webb, who hit four of six three-pointers, finished with 21 points, and Moussa Diagne added 14 points and 12 rebounds from Furman. Robby Bostain had 16 points.
Iowa State 72, Portland State 64
Ames, Iowa - Curtis Stinston scored 21 points, and Rashon Clark added 17 to lead the Cyclones past the Vikings in the opening round of the American Family Insurance Cyclone Challenge.
Portland State (1-2) got 19 points from Juma Kamara and 11 by Jake Schroeder.
Iowa State (2-0), which struggled against Portland State's zone in the first half, held a two-point halftime lead and opened the second half with a 10-1 run for a 43-32 lead.
The Cyclones extended their lead to 14 points before Portland State rallied.
Schroeder hit a pair of threes during a 14-4 run that brought the Vikings within four points with about nine minutes left.
The Vikings remained close until the final two minutes, but the Cyclones put the game away by making eight of nine free-throw attempts in the last 50 seconds.
Iowa State plays Howard at 8 p.m. Friday in the second round of the tournament.
Portland State and Iona play at 5:30 p.m. Friday.
Copyright 2018 The Associated Press. All rights reserved. This material may not be published, broadcast, rewritten or redistributed. We strive to uphold our values for every story published.