Mayor Boog Highberger is ready to begin annexing large chunks of land - whether landowners want to be part of the city or not - in an effort to build better planned neighborhoods.
Highberger for the last week has been discussing ideas to scrap the city's annexation policy, which generally doesn't force landowners to come into the city until they are ready. As a result of that policy, the city has historically annexed small chunks of land as developers are set to begin a new project.
"I know we're going to have to be sensitive to the desires of landowners, but if we are going to grow rationally, we can't grow piecemeal," Highberger said. "I want to make sure that we build true neighborhoods, and this is the only way I know to do it."
But it may be a more contentious way, Douglas County Commissioner Jere McElhaney said. McElhaney said a policy that would force unwilling landowners into the city was sure to create questions ranging from what farmers are to do with livestock to issues about forcing people to abandon water wells and septic systems they have spent money to create.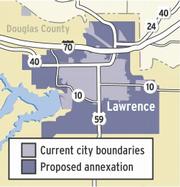 "Forced annexation can get to be almost like possession of property by eminent domain," McElhaney said. "The mayor has to be careful. He's talking about affecting people that aren't a part of his constituency."
More city control
Specifically, Highberger is proposing the city and county review the city's designated urban growth zone, the area that the city is expected to grow into during the next 25 years. He said the boundaries for the area may need to be redrawn. Once that is completed, Highberger said the city should annex all the area the city is expected to grow into during the next three to five years. That could involve annexing several hundred acres or more, though exact areas haven't been identified.
Highberger also wants the city to plan - with input from landowners - a street grid system for all the newly annexed areas.
Traditionally, developers have designed neighborhood street systems and submitted them to the city for approval. Under the new system, developers would be shown where streets need to be, and they would design their neighborhoods around that plan.
"I'm interested in doing something that makes the city more in control of the end product, and gives developers more predictability," Highberger said.
Members of the development community, though, have questions. Mark Buhler, an executive with Stephens Real Estate and former county commissioner, said annexation created an expectation that a property owner will be able to develop in the near term and receive city services.
Buhler said if the city begins annexing larger areas of land, that will create more expectations for the city to meet.
"Where I see this not working very well is that we have been woeful from a municipal standpoint about getting extensions of infrastructure and utilities in place," Buhler said. "This will require us to be a lot more proactive."
Otherwise, landowners could find themselves in the situation of being in the city limits and paying city taxes but not having the ability to build city-style development for several years.
Series examines growth
Starting Dec. 11, the Lawrence Journal-World and 6News will begin the series "Mapping the Future," examining the city's planning and growth.
But Highberger said he thought the new process would make it easier for the city to do comprehensive planning, which should ensure that new areas of town are served by streets and infrastructure systems that make sense. Plus, Highberger said the change would bring Lawrence in line with how other communities, including most in Johnson County, plan for growth.
Interest shown
The idea has support from other commissioners. City Commissioner David Schauner said the process would provide a more predictable development environment.
"The trick is how do we sit down with all the vested stockholders and make it work for everyone," Schauner said.
City Commissioner Sue Hack said she also supported the idea, but that it probably would require the community to participate in the process to set goals about how the city should develop.
The idea likely will need support from county commissioners also. That's because state law gives the County Commission power to block large-scale annexations if the landowners don't consent to the annexations.
City commissioners are expected to discuss Highberger's idea during their annual goal-setting session, which is expected to be either in December or January.
Copyright 2018 The Lawrence Journal-World. All rights reserved. This material may not be published, broadcast, rewritten or redistributed. We strive to uphold our values for every story published.