Lahaina, Hawaii — Flashes of brilliance from Kansas University freshman guard Mario Chalmers suggest he'll be a terrific college basketball player in time.
The sooner the better.
If one thing was exposed in a Maui Invitational in which KU placed seventh in an eight-team field made up of seven Div. I schools, it was that at the moment the Jayhawks aren't as good in the backcourt as everywhere else.
Chalmers is the team's most talented small guard, which isn't the same thing as saying he's their most consistent or most ready to handle pressure defense from big-time competition.
Against Div. II Chaminade, it was clear he was the most talented.
In a 39-second flurry midway through the second half of a 102-54 rout of Chaminade, Chalmers had a pair of rebounds and a pair of assists, and the passes were made for the highlight reel.
Chalmers faked nearly everyone at the Lahaina Civic Center out of their shoes, making them believe he was passing it to the left side of the court, then rifled a beauty to Julian Wright on the right baseline for a dunk. The next time down, he led Wright with another beauty of a pass that enabled him to step into and shoot a short jumper in rhythm. Both possessions began with Chalmers getting the defensive rebound and pushing the pace.
Photo Gallery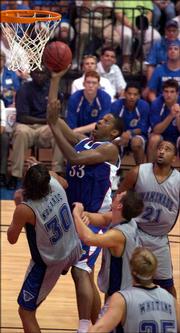 KU vs. Chaminade
Each play created a little more distance from his humbling opening night of the Maui Invitational, when he had seven turnovers in 17 minutes.
What does Chalmers need to do for Kansas coach Bill Self to let him run the team on the floor?
"I'm not not confident with him running out there, but I think we obviously, and we all can, but if you're asking me just about Mario, he can become better defensively and take better care of the basketball," Self said. "He had such a good game against Idaho State and then to go from that to Arizona, I think that probably shell-shocked him a little."
Chalmers played off the ball, with Jeff Hawkins running the point, and at other times played off the ball with Russell Robinson at the point against Chaminade. Chalmers did his best work when on the floor with Brandon Rush at shooting guard and Micah Downs at small forward. That was the perimeter trio for much of a 26-2 second-half stretch.
When facing inferior competition, the most talented lineup is the one that's going to pour it on the most. When facing stronger, more experienced, legitimate competition, more than talent is needed to survive. Physical strength and poise become more important, as against Arizona.
Self said he considered Hawkins to be his best primary ballhandler. He easily has the best assists-to-turnover ratio on the team, but he's averaging 26.7 minutes and two points a game, and Chalmers (6.7 ppg) is the fourth-leading scorer in 18.3 minutes a game.
Chalmers tightening up his ballhandling and defensive soundness to the extent Self turns the team over to him is a development the Jayhawks need even more than the rapid improvement they have gotten from Wright, who has come so far from the nervous freshman he was during the exhibition season.
Copyright 2018 The Lawrence Journal-World. All rights reserved. This material may not be published, broadcast, rewritten or redistributed. We strive to uphold our values for every story published.