It wasn't quite the Senior Night that Andi Rozum had anticipated.
Rozum aggravated her lower back, which she has had some problems with for some time, in the second game of Kansas University's 3-1 (25-30, 30-27, 16-30, 18-39) volleyball loss to No. 10 Missouri on Wednesday at Horejsi Center.
"I was just disappointed. I was disappointed that I couldn't help my team, playing a game where we really needed to win," Rozum said. "That was probably the biggest thing going through my head - that I wanted to be out there."
The loss of their top setter forced the Jayhawks to tweak their game plan and had to move Emily Brown to the setter position.
"Well, you lose Rozum, and you got someone who has never set before in a collegiate match," KU coach Ray Bechard said. "I thought Emily did an unbelievable job under the circumstances. But it changes every service pattern, changes everybody's responsibility.
Photo Gallery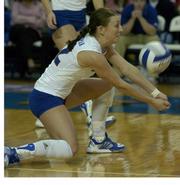 KU vs. Missouri
"And I think we ran, in game two, off a little bit of energy and enthusiasm. But when you play a top-10 team and they're going to expose it the longer the match goes, they're going to expose some of the deficiencies you have."
The Jayhawks were able to finish off the Tigers in the second game without Rozum, but looked lost without her presence on the court.
The loss of the program's all-time assist leader (4,762) took a toll on KU's attacking, as it was able only to amass eight kills in game three and 11 in the final game.
"It's going to play with us a little bit, but I think we handled it very well," Brown said. "It's just hard to play when your setter goes down, but it's not an excuse or anything."
The Baldwin native, whose normal position is opposite hitter, had a career-high 21 assists.
"She stepped it up big-time. I mean, that's a hard thing to do, playing a position you're not used to," Rozum said of her replacement.
Senior Josi Lima kept a close eye on the scoreboard in the final game as the Jayhawks attempted to make a run when down 20-8.
"I was thinking, 'I've been playing volleyball almost 10 years,'" Lima said, "'and just two more weeks and everything will be done.'"
Packed Horesji Center was roaring after diving digs, fierce blocks - and a proposal during the seniors' speeches.
The emotional roller-coaster evening for Rozum finished with a breathtaking high.
Rozum's boyfriend of two years, Alex Santos, was called out of the crowd by Lima - who introduced the two - and Santos proposed.
"When I looked around and saw him all dressed up, I kind of knew what he had in mind," Rozum said.
KU won't have a big turnaround from the extremely emotional evening. Saturday, the team will head to Iowa State for its regular-season finale.
Copyright 2017 The Lawrence Journal-World. All rights reserved. This material may not be published, broadcast, rewritten or redistributed. We strive to uphold our values for every story published.