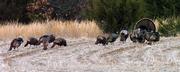 Cold air - enough to chill off every turkey leg and pumpkin pie in the city - swooped into Lawrence this morning.
"It's much cooler than we saw yesterday. In fact, a 25-degree drop is what we're expecting for Thanksgiving," said Tim Reith, 6News meteorologist.
At 8 a.m., the temperature was 35 degrees under partly cloudy skies. "The wind chill is 29 degrees thanks to our winds being out of the northwest at 7 mph," Reith said.
The cold front will keep temperatures down from the 60s that Lawrence saw on Wednesday to a high of only 44 degrees today, with northerly winds 10 to 15 mph, he said. The average high for this date is 50 degrees.
Winter Weather
Winter weather information
Reith said the cold front was bringing in not only cooler temperatures, but more clouds from out of the west.
Overnight, the temperature will fall to 20 degrees by early Friday morning, with light and variable winds. Friday's afternoon high will reach 48 degrees.
"If you're headed out for those great bargains Friday, grab a jacket," Reith said.
Saturday's morning low will be 34 degrees, he said.
Kansas University football fans headed out to watch the KU-Iowa State game at 11:30 a.m. Saturday at Memorial Stadium will find cloudy skies, but pleasant conditions, he said.
"By Saturday for the KU game, the weather looks great. We should be in the 50s," he said. Saturday's afternoon high will reach 54 degrees under cloudy skies, he said.
Lawrence should stay dry until Sunday, when there's a chance for rain, he said.
The National Weather Service says there is a 30 percent chance for showers Saturday night and a 50 percent chance for thunderstorms on Sunday.
Copyright 2018 The Lawrence Journal-World. All rights reserved. This material may not be published, broadcast, rewritten or redistributed. We strive to uphold our values for every story published.