Harbin, China — With temperatures dipping to minus 10, this frigid northeastern Chinese city was digging 100 new wells Wednesday after shutting down its water system to protect residents from toxic benzene spewed into a river by a chemical factory explosion.
Harbin, known abroad for its winter "ice lantern" festival, closed schools and was trucking in bottled water after suspending water supplies at midnight Tuesday. Service was restored for a few hours Wednesday but stopped again by evening.
The announcement of the shutdown set off panicked buying of bottled water, soft drinks and milk, leaving supermarket shelves bare. Families filled bathtubs and buckets before taps ran dry.
China's central government confirmed for the first time Wednesday that the shutdown was a result of a "major water pollution incident" in the Songhua River after the Nov. 13 explosion, which killed five people in the nearby city of Jilin. Local officials earlier disclosed the reason for the shutdown, but officials in Beijing had refused to comment.
The explosion, which forced the evacuation of 10,000 people, was blamed on human error in a tower that processed benzene.
The benzene stretches some 50 miles along the river, with levels at some places 30 times the acceptable standard, the official Xinhua News Agency said. It said the chemical was expected to reach Harbin early this morning and should be gone by Saturday.
On Wednesday, the city of 3.8 million people was drilling 100 wells that were expected to produce 21 million gallons of water per day, said Zhang Dingbang, deputy secretary of the municipal government, according to Xinhua.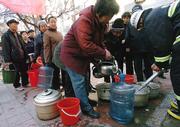 The city has 918 wells supplying hospitals and some residential areas.
Protests have erupted in rural areas throughout China over complaints that pollution is ruining water supplies and damaging crops. Protesters often accuse officials of failing to enforce environmental rules either in exchange for bribes or for fear of hurting local business.
"This is the tip of the iceberg," said Elizabeth C. Economy, director of Asia Studies at the Council on Foreign Relations in New York and author of the 2004 book "The River Runs Black: The Environmental Challenge to China's Future."
"We've seen over the past six months or so a number of factory-related protests ... because factories don't live up to or don't enforce China's own environmental regulations and laws," she said. "So if, in fact, this is a case of that happening, then this is part of a much broader, systemic problem."
Harbin is one of the coldest places in China. During its "ice lantern" festival, giant slabs of ice cut from the Songhua are used to construct copies of famous buildings and artworks in public parks.
Copyright 2018 The Associated Press. All rights reserved. This material may not be published, broadcast, rewritten or redistributed. We strive to uphold our values for every story published.