Miami — More talent was supposed to mean less weight on Dwyane Wade's shoulders this season.
Instead, injuries to starters Shaquille O'Neal, Jason Williams and James Posey at different times have forced Wade to carry a heavier load than ever.
As usual, Wade is responding with amazing success, putting up the best all-around numbers of his short career through 10 games: 26.1 points, eight assists and 7.6 rebounds. But not even another near triple-double from Wade was enough to get the Heat past the previously winless Toronto Raptors on Sunday.
There was never supposed to be this much pressure on Wade - at least not yet. The team's early season success, however, depends on him. So Wade is learning on the fly how to be Mr. Everything.
"Your responsibilities do increase as every year progresses, but I just feel like early in the season I'm trying to get adjusted to everything I'm doing," Wade said. "I'm going through a process, too."
On top of the offensive responsibilities, Wade also is defending some of the opposition's better offensive threats, which he wasn't asked to do too often last season.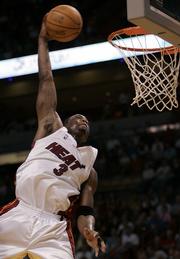 "I think the biggest thing with me is, last year when coach was giving me the ball to get people shots, I had the luxury of having Eddie Jones to let me relax on the other end," Wade said. "This year, I don't have that luxury as much, and it has taken more of a toll on me this season so far to be able to create the shots and score some points with Shaq being out."
So how much is too much? Even with O'Neal out since the third game of the season and Williams out the past two games, the Heat still have other options to turn to offensively. Antoine Walker and Gary Payton could ease the burden on Wade and still give the team a chance to win.
Yet it's difficult to argue the success rate with Wade as the principal playmaker.
"Going into the Toronto game, he was the leading guard rebounder in the NBA, he had more assists than any other nonpoint guard in the NBA, and he's averaging 25 points a game," Heat coach Stan Van Gundy said of Wade.
"Now, over the last five games, he's not turning it over much. It's hard to say anybody's playing the game better than him right now anywhere in the league offensively. Obviously, we're going to try to take advantage of that and put the ball in his hands."
No one on the team is clamoring to get the ball out of Wade's hands. They just want to make sure he will hold up with so much on his plate this early in the season. Payton said the best way to do that was make sure Wade was not the only player producing positive results.
"If Dwyane's playing the way he's playing, let's keep riding with him," Payton said. "We just don't want to exert all his energy and wear him out. We don't want to get him hurt or anything like that."
Wade, though, isn't about to shy from his responsibilities - not when his team needs him this much.
"I've got to do it," Wade said. "As a player, you're not going to go to coach and say, 'Lessen my responsibilities. I don't want to be on the floor.'"
Copyright 2018 The Lawrence Journal-World. All rights reserved. This material may not be published, broadcast, rewritten or redistributed. We strive to uphold our values for every story published.