Through three quarters of play, the first-grade Ten Tigers and Heat were deadlocked at 24 points apiece.
The Ten Tigers stormed ahead during the final quarter with six points to pull out the 30-26 victory Saturday at the East Lawrence Center.
Wes Smith, Ten Tigers head coach, said he likes the effort his team gives on a weekly basis.
"I think they played really well, and they play better every week," Smith said. "They try hard and they work well together. I think they're a really good little team."
The Ten Tiger team energy stems from the smallest player on the squad. Guard Anton Bratton might not be the tallest kid on the court, but what he lacks in size he makes up for in effort. Bratton was a speed demon all over the court. He chased down loose balls on defense. He chased down loose balls on offense. He chased down defensive rebounds. He chased down offensive rebounds. He chased down opponents who were trying to score. He even chased after his teammates to help them try to score.
When Bratton finally caught up to where he wanted to go, he also did jumping jacks. He did jumping jacks when he wanted his teammates to pass him the ball and he did them right in the face of his opponents when they were attempting a shot or pass.
Bratton's hustle won't show up in the stat column, but his attitude played a role in the outcome of the game.
Bratton's play wasn't able to stop everyone on the Heat, however. Guard Alex Craig scored a game-high eight points. Craig used fancy dribbling and superior court awareness to find seams in the Ten Tigers defense. Craig not only found the seams, but also snuck through them to finish strong at the basket.
During the first three quarters both teams traded off baskets on every possession. Craig knocked down shots and the Ten Tigers would answer. Ten Tigers forward Kelvin Suddith used his long arms to pull down offensive rebounds for tip-ins. He also stepped to the outside and sent in a long-distance shot.
The Ten Tigers made two defensive stops during the final quarter to help wrap up the victory.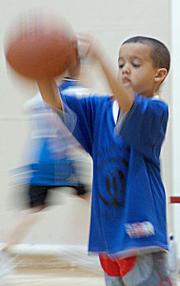 Smith said he would like to see his team continue their passing ways even if it means their point production may go down at first.
"You'll notice that when they get under the goal, they pass the ball to somebody instead of shooting it, so that's always good to see," Smith said. "Even though they probably should take the open shot, it's good to see."
Other than improving on passing, Smith said his team would work on learning all the rules of the game. They'll work on some of the smaller things, such as properly throwing in the ball and learning not to travel with the basketball.
Copyright 2018 The Lawrence Journal-World. All rights reserved. This material may not be published, broadcast, rewritten or redistributed. We strive to uphold our values for every story published.