Say "sweet potatoes," and most people think of the mushy orange Thanksgiving dish topped with marshmallows.
It doesn't have to be that way.
"It's really something that's good all year long," says Sula Teller, chef and director of food services at the Community Mercantile Co-op, 901 Iowa. "People should treat it like a real food, not just something to decorate the Thanksgiving table."
The colorful tubers have a long history in the Americas. Christopher Columbus' log mentions bringing potatoes from the West Indies on his fourth voyage here. They're especially popular in the South, where their uses range from sweet potato pie to livestock feed.
More locally, a 1938 Kansas State University publication says sweet potatoes are
"commercially the second most important vegetable crop both in Kansas and the United States, and is exceeded in volume only of production only by the Irish potato." Sweet potatoes also were a favorite of KU basketball legend Wilt Chamberlain.
Still, they tend to show up in a ceremonial yearly yam appearance - on Thanksgiving Day, when some people load up their plates for their yearly sweet potato fix while others dab on a small "no-thank-you" helping.
But that may be changing.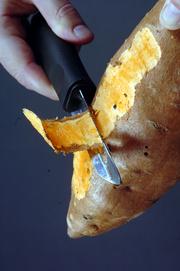 Mike Garrett, who owns a vegetable stand northeast of Lawrence, has seen an increase in interest in sweet potatoes in recent years.
Sure, some people are making sweet potato pies and casseroles. But more cooks are using them as baked potatoes, soups, salads and other foods. And Garrett likes to slice them thin and fry them on the stove - his own sweet potato chips.
Garrett says there are about 10 varieties of sweet potatoes that grow in Kansas.
"Sweet potatoes - like acorn and butternut squash - are coming back," Garrett says. "People are open-minded."
Teller says she likes to make a special mashed potato, combining sweet potatoes with Yukon gold potatoes.
She also makes a sweet potato salad by boiling the yams, infusing the water with bay leaf, coriander and garlic, draining and cutting them and tossing them with greens in a cilantro vinaigrette.
Teller says the key is finding the right spices to combine with the sweet potatoes.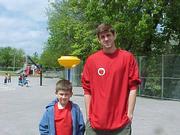 "Sweet potatoes love nutmeg, allspice and fresh ginger," she says.
Hilary Brown, owner of Local Burger, 714 Vt., says she combines sweet potatoes with other roasted root vegetables for a mixed vegetable dish.
"It's been a hit with my family for years," she says.
And yam desserts go beyond just sweet potato pie. Brown uses sweet potatoes to add sweetness to many of her desserts, including brownies. The fiber helps bind other foods together.
"They're so great to work with," she says.
Sweet potato rosemary soup
1 tablespoon olive oil
1 large onion
2 medium sweet potatoes
2 carrots
2 cloves garlic, minced
5 cups chicken or vegetable stock
1 tablespoon fresh chopped rosemary
1 tablespoon fresh thyme leaves
2 large Granny Smith apples
1â2 cup heavy cream
Salt and white pepper
In a large soup pot, heat oil and saute onion 5 minutes or until softened. Peel and dice sweet potatoes and carrots and add to pot with garlic. Cook 2 minutes more. Stir in stock and fresh herbs. Peel, core and dice apples; add to soup and bring to a boil. Lower heat and simmer 15-20 minutes until vegetables are all tender. Puree in the bowl of food processor in batches. Stir in cream. Season to taste with salt and white pepper. Serves six to eight.
Source: www.ncsweetpotatoes.com
Sweet potato Spanish tortilla
4 medium sweet potatoes
1/4 cup light olive or vegetable oil
1 clove garlic, finely chopped
1 medium white onion, finely chopped
2 (3-inch each) Jalapeno peppers, seeded and finely chopped
3 tablespoons parsley, minced
2 tablespoons fresh cilantro, minced
Salt and freshly ground pepper, to taste
6 large eggs
Peel sweet potatoes, cover with water in a large pot. Boil gently for 20 minutes until potatoes are just tender. Do not overcook. Drain well in a colander. When cool, cut into half-inch rounds. Add 2 tablespoons oil to a large 12-inch non-stick saute pan or skillet. Saute garlic, onions and peppers until wilted. Add remaining oil to pan and saute sweet potato rounds until lightly browned. Combine parsley, cilantro, salt, pepper and eggs in a large bowl and whisk until eggs are well blended. Add to sweet potato mixture. Cook until eggs are set. Cut tortilla into eight wedges. Serve hot. Makes eight servings.
Source: www.ncsweetpotatoes.com
Stuff it sweet potatoes
6 medium sweet potatoes
1/2 cup softened butter or margarine
1/4 cup chopped toasted almonds
1 tablespoon grated orange peel
2 tablespoon maple syrup
1/2 teaspoon vanilla extract
1/2 teaspoon ground cinnamon
Wash and dry sweet potatoes. Bake at 425 degrees for 40 minutes or until tender. Cut a lengthwise slice from the top of each sweet potato. Remove skin from slice and place meat of sweet potato in bowl. Gently scoop out sweet potatoes leaving 1/4 inch shell. Place in bowl. Add remaining ingredients; blend well. Pipe or spoon into reserved shells. Arrange on baking sheet. Bake uncovered at 425 degrees for 15 minutes or until lightly browned. Makes six servings.
Source: www.ncsweetpotatoes.com
Sweet potato casserole
For pie:
3 cups mashed sweet potatoes
1 cup brown sugar
2 eggs, lightly beaten
1 teaspoon vanilla
1/2 cup milk
1/2 cup melted butter
For topping:
1/2 cup brown sugar
1/3 cup flour
1/3 cup melted butter
1 cup chopped pecans
Combine first six ingredients. Pour into a buttered 1 1/2 to 2-quart casserole dish. Mix remaining ingredients together and sprinkle over top. Bake at 350 degrees for 30 to 40 minutes, until hot and browned. Serves six to eight.
Source: southernfood.about.com
Caribbean pork and sweet potato salad
1/2 cup Caribbean jerk marinade
3/4 lb. boneless pork loin chops, sliced into thin strips
1 can (8 1/4 oz.) pineapple tidbits, drained (reserving 2 tablespoons juice)
1/3 cup sliced green onions, including tops
1 small sweet potato, peeled, cut into chunks and parboiled or 1 can (15 ounces) sweet potatoes, drained
1 tablespoon honey
1/3 cup salted peanuts (optional garnish)
In resealable plastic bag, combine 1/4 cup jerk marinade and pork; seal bag and marinate in refrigerator for 30 minutes. Remove pork; discard used marinade. In medium skillet, cook pork over medium-high heat until cooked through, about six to eight minutes. In large bowl, combine pork, pineapple, onions, sweet potato, honey, reserved pineapple juice and remaining marinade; gently toss to coat. Sprinkle with peanuts, if desired, before serving either warm or chilled. Makes 4 servings.
Source: www.sweetpotato.org
Sweet potato crunchies
3 cups fresh sweet potatoes cooked and mashed or 2 (15-ounce) can sweet potatoes, drained and mashed
1 tablespoon margarine
1/3 cup brown sugar
1/4 cup brown sugar
1 teaspoon vanilla
2 tablespoon flour
1/4 teaspoon cinnamon
1 large egg
3 cups crushed corn flakes
Preheat oven to 325 degrees. Place the sweet potatoes in a large bowl. Add margarine, brown sugar, pecans, vanilla, flour and cinnamon; mix well. Beat in the egg. Form the mixture into bite size balls and roll in crushed corn flakes. Place the sweet potato balls on the baking sheet coated with nonstick cooking spray and bake for about 20 minutes. Serve with toothpicks. Makes 3 1/2 to 4 dozen.
Source: www.sweetpotato.org
Apple cinnamon sweet potato muffins
3/4 cup oat bran
3/4 cup whole wheat flour
2/3 cup sugar
1 1/2 teaspoons cinnamon
1 teaspoon baking powder
1 teaspoon baking soda
1/8 teaspoon salt
1/2 cup apples, skinless, finely chopped
1 cup fresh sweet potatoes, cooked and mashed or 1 (15- ounce) can sweet potatoes, drained and mashed
1 large egg
2 large egg whites
3 tablespoons vegetable oil
2/3 cup plain yogurt
Preheat oven to 350 degrees. In a bowl, combine bran, flour, sugar, cinnamon, baking powder, baking soda, salt and apples. Add sweet potatoes, egg, egg whites, oil and yogurt. Stir all ingredients thoroughly. Spray muffin tins with vegetable cooking spray and spoon 1/4 cup of batter per muffin. Bake for 20 to 25 minutes or until done. Makes approximately 20 muffins.
Source: www.sweetpotato.org
Sweet potato creme brulee
2 large sweet potatoes
1 3/4 cups sugar, divided
1/2 cup sour cream
2 tablespoons fresh lemon juice
3 cups whipping cream
1 vanilla bean
1 tablespoon vanilla
12 egg yolks
Sugar
Bake sweet potatoes in center of 325-degree oven until tender, about one hour. Peel sweet potatoes and puree until smooth. Combine sweet potato puree, 1/4 cup sugar, sour cream and lemon juice; mix well. Butter 10 (7-ounce) ramekins; sprinkle with sugar. Spoon 1/4-inch layer of sweet potato mixture (about 3 tablespoons) into ramekins. Set ramekins in 9x13x2-inch baking dish; set aside. In saucepan, combine whipping cream, 3/4 cup sugar and vanilla bean. Bring to a boil, stirring occasionally. Remove from heat; and stir in vanilla. Mix egg yolks with remaining 3/4 cup sugar. Blend hot cream into egg yolk mixture. Fill ramekins with egg mixture. Place in center of oven at 325 degrees. Pour enough hot water into baking dish to come halfway up sides of ramekins. Bake 55 minutes or until knife inserted near the center comes out clean. Remove ramekins from water to a wire rack and cool. Chill in refrigerator.
To make decorative golden sugar garnish heat additional 1/2 cup sugar in heavy small skillet over medium heat until melted. Drizzle sugar onto lightly buttered baking sheet with a fork. Let stand until cook. Break into large pieces. At serving time, sprinkle ramekins with sugar if desired, place under broiler to brown sugar.
Source: www.ncsweetpotatoes.com
Sweet potato pie
4 ounces butter
2 cups cooked and mashed sweet potatoes
2 cups granulated sugar
1 small can (5 ounces) evaporated milk
1 teaspoon vanilla
3 eggs, beaten
1 1/2 teaspoons cinnamon
2 prepared pie shells, unbaked.
Mix potatoes, sugar and milk until well blended. Add vanilla, eggs and cinnamon; mix well/ Pour into prepared pie shells. Bake at 350 degrees for about an hour. Makes two pies.
Source: southernfood.about.com
Sweet potato pecan bread pudding
3 1/2 cups sweet potato banana muffins (broken in pieces)
2 cups milk
1 cup apricot nectar
3 large eggs, slightly beaten
1/3 cup firmly packed brown sugar
2 teaspoon vanilla extract
1/2 teaspoon ground cinnamon
1/3 cup golden raisins (optional)
Whipped topping
Place muffins in 1 1/2 quart baking dish. Combine milk, juice, eggs, brown sugar, vanilla, cinnamon and raisins. Pour over muffins. Bake at 350 degrees for 30 minutes, or until knife inserted in center comes out clean. Serve warm or chilled. Top with whipped topping. Store any leftover pudding in the refrigerator. Makes six servings.
Source: www.ncsweetpotatoes.com
Copyright 2018 The Lawrence Journal-World. All rights reserved. This material may not be published, broadcast, rewritten or redistributed. We strive to uphold our values for every story published.