Washington — Leaders of Bosnia's three major ethnic groups have reached an accord designed to unify the Balkan country by remaking the government's constitution a decade after a bloody civil war.
Announcing the accord, Secretary of State Condoleezza Rice called it historic. She said it was "an example of how diverse people can live together without fear."
While leaving details for later, the pact would have Bosnian leaders consolidate power in what would be a stronger national government.
The accord, coming a day after the 10th anniversary of the Dayton accords that ended the three-year war, marks a major step in binding the wounds left by what was Europe's worst fighting since World War II. The conflict killed 260,000 people and drove 1.8 million from their homes.
"Today, Bosnia-Herzegovina is joining the international community," Rice said at a State Department luncheon Tuesday that blurred partisanship by paying tribute to the Clinton administration for brokering the Dayton accords.
Rice said while the Dayton agreements were right for the time, Bosnia needs a stronger, energetic state "capable of advancing the public good and securing the national interest."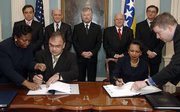 Two separate agreements were signed before the luncheon by Rice and Bosnian Foreign Minister Mladem Ivanic that formalized U.S. military access to Bosnia and to govern civil aviation there.
The leaders of the major communities, Serb, Croat and Mulsin, issued a statement. It said:
"We have decided to embark upon a process of constitutional reform that will enhance the authorities of the state government and streamline parliament and the office of the presidency."
"These are only the first steps," the agreement said. "We recognize that further reforms of the constitution will be necessary" to meet criteria for membership in the European Union.
"We are committed to working together to undertake these reforms and to improve the quality of life for all citizens of Bosnia and Herzegovina," it said.
The new compact modernizes the decade-old accord. It would replace a three-presidents arrangement with a single president and hopefully point the way to a strong prime minister and a strong parliament.
The agreement commits all sides to eliminate redundant offices and to clean up inefficiencies - necessary steps toward including Bosnia eventually in the European Union, which would enhance the country's economic fortunes.
Copyright 2018 The Associated Press. All rights reserved. This material may not be published, broadcast, rewritten or redistributed. We strive to uphold our values for every story published.