A puppet named "Rosie" is teaching local preschoolers an important rule: "No one should touch your private parts except to keep them clean and healthy."
The 3-foot-tall puppet is the centerpiece of a new class being offered in Lawrence that aims to help children avoid being the victims of sexual abuse. It's a crime that's most often perpetrated by people who know the child, but social worker Tracy Williams said schools don't place enough emphasis on teaching children how to prevent it.
"Our community is not providing our children with this information," she said. "I think talking about it is taboo. We teach our kids not to talk to strangers, and we stop there."
Williams is an employee of GaDuGi SafeCenter, a local agency that helps victims of sexual abuse. She recently finished teaching the class for the first time in Lawrence to preschoolers at the Ballard Community Center, 708 Elm St.
Williams puts "Rosie" the puppet into dangerous situations - for example, coming into an adult puppet's home to see an animal without asking a parent - and has the children tell her what Rosie is doing wrong.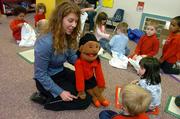 "Sometimes she does bad stuff, and we have to teach her to do good stuff," preschooler Alexia Crowe explained.
The first seven sessions of the 15-session class cover basic safety rules, such as fire safety and gun safety. It's not until midway through the course that Williams introduces the rule about their private parts, which she calls the "touching rule."
Williams teaches children that if someone tries to break the rule, they should do three things: use words that mean "no," get away and then tell a trusted adult.
On Tuesday, Williams went around the room at the Ballard Center testing what each child had learned by using an adult puppet named "Rosalita."
"Let's pretend Rosalita wants you to sit on her lap, and you don't want to," she said to one child. In other cases, Rosalita asked children if she could tickle them or put her hands down their pants.
The children took turns saying "no," then walked to GaDuGi intern Dacia McCabe and told her someone had broken the touching rule.
"Thank you for telling me. I'll help keep you safe," McCabe said.
According to GaDuGi SafeCenter's figures, one in three girls and one in six boys will be the victim of sexual abuse, and 90 percent of offenders are known to the child.
The Ballard Center offered a "parent orientation" before the class began. The center's early-education director, Michelle Scott, said all the parents who attended were supportive.
"I just think the earlier we bring it into kids' lives, the less controversial it's going to be," she said. "It's just good for the kids to be exposed to that and learn early on what's appropriate and what's not appropriate."
Williams said Lawrence's HeadStart program has agreed to offer the program next year, and she hopes to eventually see it taught in the public schools.
Copyright 2018 The Lawrence Journal-World. All rights reserved. This material may not be published, broadcast, rewritten or redistributed. We strive to uphold our values for every story published.