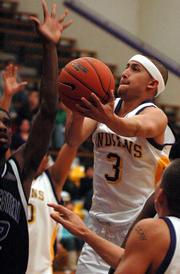 Wacy Weeks poured in 21 points and grabbed six rebounds, but Haskell Indian Nations University couldn't overcome No. 21 Southwestern in an 81-69 men's basketball loss Tuesday night at Coffin Complex.
Chad Kaler added 10 points, and Lonnie Favel had nine for the Fightin' Indians (2-5), who shot 52 percent (26-for-50) from the field and outscored Southwestern, 39-37.
Haskell will travel Friday to Central Missouri State for a 7 p.m. tipoff.
Copyright 2018 The Lawrence Journal-World. All rights reserved. This material may not be published, broadcast, rewritten or redistributed. We strive to uphold our values for every story published.