Though it only took about two seconds for Detroit guard Lindsey Pasquinzo's potential game-winning shot to reach the rim Tuesday night, it sure seemed like a whole lot longer.
Kansas University women's basketball coach Bonnie Henrickson called it "a lifetime."
Jayhawk forward Crystal Kemp found time enough to offer a silent plea.
"I don't think I had my heart in my chest at that time," Kemp said. "I had kind of closed my eyes and prayed for a quick second, 'Please don't go in.'"
Luckily for the Jayhawks, the eternity finally ended with clank of the rim and a 70-68 victory over pesky Detroit at Allen Fieldhouse.
"It was definitely one of those things where everybody in the stands held their breath," Kemp said, "because she was a great shooter."
Photo Gallery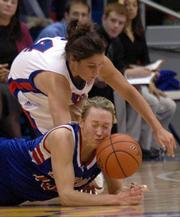 KU vs. Detroit
Though Henrickson's players are young, they showed poise and maturity down the stretch even when behind in the final minutes.
A free throw by Joanna Cooper made it 64-58 Detroit with 4:27 to go, but Kansas responded.
Freshman Ivana Catic drove the lane and finished with an off-hand floater off the glass to cut the advantage to four.
The Jayhawks hit four consecutive free throws to tie it, but again were set back when Pasquinzo hit a three with just under three minutes to go.
"That's where our leadership came in," Kemp said. "Kaylee and I, and even the young ones stepped in and said we've all got to buckle down and get it done on defense because that's what was really hurting us."
Kaylee Brown hit a layup with time expiring on the shot clock, and free throws from Taylor McIntosh, Catic and Brown gave Kansas the two-point edge before the final shot.
"She got the uncontested three at the end," Henrickson said, "and we're just obviously very lucky that doesn't go down."
Kansas reaped the benefits of some extra work done in the off day by McIntosh. The sophomore forward was 0-for-3 from the free-throw stripe in the opening game against Binghamton, and because of it watched film on where the ball was being set in her hand. She showed up early to practice Monday for extra shooting.
Tuesday, McIntosh finished a perfect 6-of-6 from the line, all coming at crucial times in the second half.
The Jayhawks were able to withstand a torrent of outside shots made by Detroit in the second half.
The Titans finished 9-of-20 from behind the arc, with most of their offense coming from unexpected sources.
Pasquinzo - the team's leading scorer - was held by McIntosh to seven points. The senior did not even attempt a shot in the first half.
Heating up instead was reserve Kelly Jaskot. Though she averaged just 3.9 points last year, the senior hit four treys and ended with 19 points in 20 minutes.
Detroit hit 10 of its first 12 shots in the second half.
"They just found players," Catic said, "that we didn't expect to step up."
Seniors Kemp and Brown once again led the Jayhawks. Kemp poured in 23 and Brown added 18. Both played all 40 minutes.
McIntosh added a double-double with 10 points and 10 rebounds, and Catic came up just short with 11 points, nine assists and just one turnover.
Kansas again was able to survive without senior Erica Hallman, who was suspended by Henrickson last week for academic reasons.
The coach said it was not likely that the guard would rejoin the team for Sunday's game against Northeastern.
"She's been doing what she's supposed to do, and that's been positive," Henrickson said. "She had a number of things due on Monday, and everything was turned in."
Copyright 2018 The Lawrence Journal-World. All rights reserved. This material may not be published, broadcast, rewritten or redistributed. We strive to uphold our values for every story published.