Lahaina, Hawaii — Kansas University's basketball team didn't fly halfway across the world so it could play Chaminade in the dreaded seventh-place game of an eight-team tournament, but that's exactly what the Jayhawks must do today.
And you know where they can send the blame? Right at the mirror. Not the refs. Not any brilliant play from the opposition, not anything but a failure to show a killer instinct at the end.
The game was there to be won, and the Jayhawks, tentative when the circumstances called for aggression, lost it.
More than just freshmen made freshmen mistakes in a 65-64 loss Tuesday to Arkansas in a Maui Invitational game at the Lahaina Civic Center.
Their final two shots, one by Russell Robinson, another by Jeff Hawkins, were blocked, and the buzzer sounded.
KU (1-2) played better than it did in an opening-round loss to Arizona, but it couldn't finish strong.
Even the older players don't have a great deal of playing time at the collegiate level, and it showed with the Jayhawks in possession of the ball and trailing by one with 18 seconds left.
Photo Gallery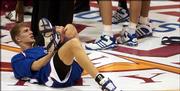 KU vs. Arkansas
Freshman Brandon Rush, the team's best player on this day with 20 points on 8-of-10 shooting from the field, including two of two three-point shots, was supposed to drive on the final play. He saw a clogged lane and passed the ball. C.J. Giles was out of position and uncertain of his responsibility. Hawkins put up a three when he should have driven.
Other images from a second half in which the Jayhawks were outscored 31-27: Robinson twice missing the front end at the free-throw line and Rush doing so once as KU finished the game 2-for-5 at the line; Hawkins dribbling the ball off his leg and out of bounds with 1:08 left; Giles getting whistled for his fourth foul on, you guessed it, a reach.
Sasha Kaun was whistled for his second foul, this one of the phantom variety, with 12:42 left in the first half. Kaun and Giles are going to have to figure out a way to stay out of foul trouble because when they are on the floor together, they alter so many shots it strips the opposing inside players' confidence.
Julian Wright gave the team a lift in the first half and had three steals and five rebounds in 21 minutes, but for the most part, the more the two big men can stay on the floor together, the better for KU.
Mario Chalmers, coming off a lifetime-worst performance against Arizona, bounced back with 11 points in 16 minutes and had just one of KU's 16 turnovers.
That's 11 fewer turnovers for KU than against Arizona, a somewhat misleading figure because Arkansas, having played the last game and losing against UConn, didn't have enough left in the legs to pressure Kansas.
"I think we're going to be a good team," KU coach Bill Self said. "Obviously, we're not anywhere close to where we need to be. Regardless of age, you've got to be able to take care of the basketball, and that's something we don't do well at all."
Another game against a quality opponent such as Maryland would have accelerated KU's learning. Instead, a 6 p.m. game against Chaminade, another Idaho State-type opponent, is on the schedule. Consider it a missed opportunity for more than a win.
Copyright 2018 The Lawrence Journal-World. All rights reserved. This material may not be published, broadcast, rewritten or redistributed. We strive to uphold our values for every story published.