New York — In an elevator at the Sony Music offices, two suited men breezily assess a fledgling artist's demo.
"How did you feel?" one asks.
"I found it to be, well, rather irrelevant," the other replies.
"I'm sure she will find a response somewhere." Both evaluations are delivered in clipped British accents.
"I love the smell of commerce in the morning," Jason Lee sighed in "Mallrats." Yes, fall has arrived at Sony Records. Decisions are being made, careers and images shaped, marketing strategies assembled, numbers crunched - all the things that the red-haired hipster aberration bopping coolly down the Sony corridors has spent the better part of his career skillfully avoiding.
It seems strange that Trey Anastasio should feel so relaxed in a place like this. Still, the happiness that Anastasio exudes during an interview today - and that anchors his new album, "Shine" - is largely painted atop a year of turbulence.
This is Anastasio's first year without Phish, the band he led to an astounding 20 years of grassroots success, a group consisting of three other college friends with whom he remains "inconceivably close." There's also Anastasio's newfound sobriety and a caustic backlash from a once adoring fanbase. Anastasio, 41, is finally getting around to what most of his musical heroes have spent careers doing: demolishing a lucrative conception of himself, and discarding all the rules that went along with that identity.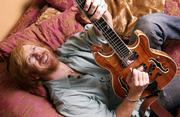 "The guy who was just taking my photograph told me, 'My brother's a big fan,"' Anastasio says. "I said, 'Oh yeah? Cool!"'
Anastasio's smile changes from humor to a wan, slightly wounded bemusement. "'Yeah,' he goes, 'he just wants to have your head."'
Q: Did you find yourself writing a lot just after Phish stopped playing?
A: Yeah. It was not without its darkness, and its difficult period, but it was creative nonetheless. I have an easier time emoting - if that's the right word - but I have an easier time expressing myself through music than I do verbally. I've kind of built my life around having an outlet with the audience, and what's particularly interesting is this, the audience that I'm so used to having as my emotional outlet was, you know, not so thrilled about all this. So that made it hard for everybody. But hard can be good.
Q: Did your new song 'Invisible' have anything to do with that?
A: Oh yeah. 'Invisible' is about Coventry (Phish's final shows). There was mud all over the place and everywhere that the four of us walked they laid down sheets of plywood so we didn't have to walk on the mud. That's the 'walking on wood, sinking in water' part. We were walking on water for 20 years. To some degree. In some people's eyes. And that's an oddity, cause nobody does that, so that's why strangely enough the outbeat of this song has this sort of joyous release quality to it. It's about how sometimes sinking is the best thing that can happen.
Q: Is there something appealing to you about the concept of vanishing?
A: Yes! Absolutely! It's amazing to me that this can sometimes be hard to explain but the artists that I most admire maintain their relationship with their audience through all their changes. John Lennon being the number one example. Bruce Springsteen, anyone who had a long career. Lou Reed, you know he was in the Velvet Underground, and then, wow. ... I just saw Bruce's acoustic show and I was just so impressed. I got to meet him backstage and talk to him for a while. He knew what was going on and he said, 'Man I'm so happy for you. Because it's tough when you're the guy who writes about cars and girls, and then all of a sudden you're not interested in cars and girls anymore.'
Q: After Phish ended were you been made to feel like a pariah?
A: Oh sure. I've felt that. They didn't see when we talked about it. The first thing out of Fish's mouth was that he was done anyway. He had been playing with (mandolinist) Jamie Masefield for a year and telling us that he was ... I don't want to talk for other people. I don't want to speak for Fish. It's a lot more complicated than anyone could ever imagine. A lot of it had to do with the framework much more than the musicians. And the most important thing is that these are three of my brothers. Closest friends on earth. We're inconceivably close, and I love them more than anything. That's all that matters.
Copyright 2018 The Associated Press. All rights reserved. This material may not be published, broadcast, rewritten or redistributed. We strive to uphold our values for every story published.