After seeing small turnouts at practice the past few weeks, Hoosiers head coach Steve Gill had every reason to question if his team was ready for action. But to Gill's delight, the fourth- and fifth-grade Hoosiers not only stuck with the Spartans, they were able to walk away with a nail-biting 26-23 win Tuesday at Langston Hughes Elementary.
Both teams were evenly matched, which was depicted on the scoreboard because neither team gained more than a six-point advantage all game. The Hoosiers were able to get just enough production from their backcourt to edge out the Spartans.
"It was a struggle because half of the team wasn't able to make it to practice because of football, so we haven't had a good chance to practice very much," said coach Gill. "However, they played really hard tonight and I'm proud of them."
The Hoosiers were led by point guard Scott Gill and shooting guard Chelsea Casady. Casady was able to gain the early momentum for the Hoosiers, recording the first six of the team's eight points in the first quarter. Casady's deadly outside shots and a knack of attacking the basket left the Spartan defenders on their heels. The Spartans were forced to double Casady, leaving Gill and company with an open shot.
Gill's ability to find the open player and deliver strong, crisp passes jumpstarted the Hoosier offense. Perhaps the biggest storyline for the Hoosiers was Gill's ability to limit turnovers and create for his offense.
Despite the strong guard play, the Spartans were able to keep things close with their big man down low. Center Logan Bannister towered over the competition, tallying double-digit totals in rebounds. With the offensive rebounds, Bannister attacked near the hoop taking advantage of the close-range second-chance points.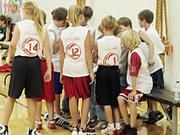 Trailing by six at the half, Spartan guard Narito Mendez closed the gap, connecting on the team's opening possession and forcing a Hoosier turnover on the team's next two ensuing trips down court.
Working with a one-point margin in the final minutes of the game, the Hoosiers turned to Kieran Severa in the waning minutes. Severa's ability to position down low and soft touch off the glass enabled the Hoosiers to pull away in the closing minutes.
Copyright 2018 The Lawrence Journal-World. All rights reserved. This material may not be published, broadcast, rewritten or redistributed. We strive to uphold our values for every story published.