The consolation game of the Hoopsters preseason tournament was a struggle to score points as the defensive-minded Blue Devils and Gators squared off.
However, the clutch performance turned in by the Gators' Madeline Caywood edged the Blue Devils 20-15 on Nov. 15 at Langston Hughes Elementary.
"Coach Stuever has had us working on our rebounding and defensive sets at practice all week," said forward Jacob Caldwell.
After grinding to an 8-8 halftime score, the Gators gained the early momentum in the second half. The Gators looked to establish their big man Joey Bateman. After cleaning up the boards throughout the first half, Bateman was rewarded with the ball early in the second half. Bateman used his size and positioning in the paint to register four consecutive points to gain the momentum.
The Gators looked to starting point guard C.J. Stuever to get the offense rolling. The quick-footed Stuever used his speed and handles to push the tempo of the game. Stuever's ability to create in the open court and find the open man enabled the Gators to take advantage of the odd-man rushes down court.
With the Gators attacking near the hoop, the jump-shooting Blue Devils used their speed to attack and spread the court.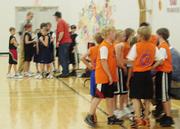 Blue Devil starting point guard Blake Myers looked to attack the rim and dish the ball to his open teammates. Myers forced the Gators to respect his offensive game, using a fade away and a hook shot to keep the Gators from fouling.
Looking to open up the lane, Blue Devil guard Josh Hess connected on two midrange jumpers. Hess' ability to knock down the open shot extended the Gator defense and gave his teammates open space near the hoop to work.
James Bush Jr. closed the gap for the Blue Devil by hitting a turnaround midway through the third quarter, bringing the Devils within two points of the Gators.
It was too little too late for the Blue Devils as Caldwell and Caywood took control late in the game for the Gators.
Hoping to win the rebound contest, Caldwell used his long arms to outreach the Blue Devils. Caldwell's hustle play near the glass gave him double-digit totals in rebounds.
With Caldwell's strong play down low, Caywood was able carry the Gator offense. With the game up in the air, Caywood sliced through the Blue Devil defense for five points in the final two minutes of the contest, giving the Gators the close win. Caywood's ability to penetrate the Blue Devil defense and deadly outside shot was the winning combination for the Gators.
Copyright 2018 The Lawrence Journal-World. All rights reserved. This material may not be published, broadcast, rewritten or redistributed. We strive to uphold our values for every story published.