While most teams have a constant mix of new faces, the fourth-grade Team Three has had a jump-start on the rest of the competition because they have been playing together since kindergarten.
The cohesiveness formed over the years was evident Saturday as Team Three was led by the strong guard play of Lucas Werner and Hunter Dedloff as they defeated the Mongoose 44-16 on Saturday at Holcom Park Center.
"I've been with these guys since they were in kindergarten," said Team Three head coach Rick Werner. "After spending all the time and practice together, they are really playing like a team."
Werner and Dedloff teamed up to compile 30 of the team's 44 points. The two whipped passes to one another, seemingly knowing where the other was at all times. Werner worked the point as Dedloff attacked the hoop. Werner's sure-handed dribbling kept the turnovers down and put the pressure on the Mongoose defense. The Mongoose defense was put in a hard place defending Werner after he displayed an outside shot to go along with his ability to attack the rim.
With Werner working up top, Dedloff attacked down low. Dedloff's ability to use his size and speed near the hoop enabled him to pick up rebounds and give the team second-chance opportunities. Not only was Dedloff dangerous down low, he also flashed a quick first step, leaving his defender behind.
The Mongoose had their own version of a one-two punch with Ben Heiner and Doug Easum. Early on, it was Heiner who kept things close for the Mongoose, using his outside shot to keep Team Three's defense busy.
On the opposite end of the court, Heiner's tenacious defensive play and quick feet held Team Three in check.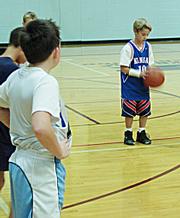 With Heiner's range, Easum was able to work the paint and attack the hoop. Easum's ability to slash to the hoop left him with plenty of easy baskets and created opportunities for the rest of his teammates. Looking to keep the defense honest, Easum buried a deep shot, forcing his man to stay close and respect his outside game.
In the end it was the experience of Team Three that prevailed. The swarming defense of Team Three forced the Mongoose into too many turnover situations. Legend Coonfield led the defense with his in-your-face style of play. Coonfield's lock-down defense energized the rest of his teammates as Team Three walked away with another win.
Copyright 2018 The Lawrence Journal-World. All rights reserved. This material may not be published, broadcast, rewritten or redistributed. We strive to uphold our values for every story published.