This time the fifth- and sixth-grade Cheetahs had a fight on their hands in order to keep their perfect season intact. The Cheetahs used aggressive defense in order to overcome a six-point Spur halftime lead en route to a 26-16 win Saturday at Langston Hughes Elementary.
It was the tale of two different teams for the Cheetahs. Early in the game, the fast-paced Cheetahs struggled to get on track because of problems with turnovers. However after the half the Cheetahs found their stride and overcame the first-half deficit.
After a week of practice the Cheetahs looked to assert their offense with screens and movement.
"At practice we worked on picking and setting one another up," Cheetah guard Ethan Miles said.
Miles and the Cheetahs used their speed and constant movement to break apart the Spur defense. Miles led the second-half charge with his ability to find the screen, work around it and use the open space to bury the shot. Midway through the third quarter, Miles snuck through the defense and dazzled the fans with a reverse lay up. Defensively, Miles was all over the court, using a quick burst to jump into the passing lanes for the steal.
Point guard Lamonte Ephriam was the offensive force for the Cheetahs. The combination of size, speed, and ability to cut to the basket led to Ephriam's 14 points on the day. Ephriam was not only a scorer but also a playmaker. Ephriam's ability to drive to the basket and draw the double team enabled his teammates to find the open spot.
However, it was the Spurs early on who appeared to play like the undefeated team. Guard Rami Safadi, who like Miles had a motor that never stopped, led the Spurs.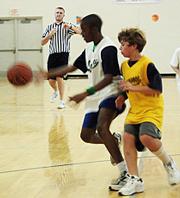 The Spurs' offense was fortunate to have the height and wingspan of Ade Ojeleye, who cleaned up on the boards. Ojeleye was a force down low for the Spurs, tallying eight rebounds with four being offensive.
Despite the strong performance turned in by the Spurs, the Cheetahs' guard play secured the win. Defensive specialist Luke Matthews swarmed the ball, making it difficult for the Spurs to form any presence down low. Matthews was able to contribute offensively with a couple of lay ups and a nice fade-away jumper that secured the win for the Cheetahs.
Copyright 2018 The Lawrence Journal-World. All rights reserved. This material may not be published, broadcast, rewritten or redistributed. We strive to uphold our values for every story published.