Welcome to our online chat with Tom King and Mike Shields about cooking turkeys.
The chat took place on Wednesday, November 23, at 2:30 PM and is now closed, but you can read the full transcript on this page.
Moderator: Hello and welcome to our chat today on cooking turkeys, which we're calling Turkey 911.
Tom King, a Lawrence chef and food writer, is with us today to answer questions you might have about preparing the Thanksgiving bird.
Mike Shields, the J-W's city editor, is also standing by to respond to any questions he might get about cooking a turkey in a smoke pit.
I'd like to thank both of you for taking the time out of your day to help out our readers.
We've got a lot of questions in the hopper, so we'll go ahead and get started.
Matt, Lawrence: What is the time to weight ratio when deep frying a bird in peanut oil?
Tom King: Hello Matt--Figure 3 minutes per pound.
Melody--Lawrence: after reading this...I would like to know how to cook a turkey in a smoke pit...
And what are some good ideas about what you can stuff in a turkey besides stuffing... Just for something different thanks Melody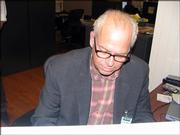 Mike Shields: Hi, Melody....I'm not a real expert. But I can post my recipe so you'll see it's not all serious.
1 chainsaw
1 shovel
1 steel plate, 3 ft. x 4 ft.
3/4 rick hardwood
1 lb. coffee can filled with gasoline
1 bottle Jim Beam
1 case beer
2 packs cigarettes and/or 2 cigars
1 burlap bag or roll of double strength aluminum foil
1 garden hose
1 metal fireplace grate or something similar
1 set fireplace tongs or something similar
1 large turkey
1 cup virgin olive oil
1/4 cup fresh rosemary
12 cloves garlic
This is a rather complicated recipe so it is best to prepare months in advance. I first used it to cook a small goat but since have learned that it is equally effective recipe for cooking all sorts of meat.
1. Cut the wood. (Do not drink any of the Jim Beam until you have put the chainsaw away.)
2. Cure 3/4 rick of green hardwood for 9-12 months. Hickory, oak or locust is good. A couple logs from an old apple tree also can be burned for this recipe, adding a little extra flavor to the finished turkey.
3. Dig one hole in the ground. It should be at least three feet deep but small enough to be well covered by the steel plate. Once you have the hole dug you can begin drinking beer. But if relatives are watching or offering advice while you dig the hole, I recommend you go straight for the Jim Beam and cigarettes.
4. Throw some logs in the hole, douse liberally with gasoline from the coffee can. Stand back. Throw your cigarette on the gasoline-soaked wood. If a relative is helping, give him your cigarette lighter and ask him to ignite the wood. That is usually good for a couple laughs and helps relieve holiday stress. If you haven't already started on the Jim Beam, now is a good time to begin.
5. Slather the turkey with the olive oil. Use your hands. It will feel like you are massaging Mother Teresa. Throw on the spice. Double wrap the turkey in the aluminum foil or if you are using burlap, soak the burlap with the garden hose so it is good and wet before putting the turkey in the burlap bag. If you have plenty of beer, feel free to pour some on the burlap. I'm not sure that makes the turkey taste any better, but it feels like a properly ancient rite for roasting meat.
6. Let the wood burn down to embers.
7. Place the fireplace grate or something similar over the embers.
8. Place the turkey on the grate.
9. Put the steel plate over the hole, making sure the plate and its edges are covered with a layer of dirt so that no smoke escapes the hole.
10. Build a second hardwood fire on top of the steel plate.
11. Keep the garden hose handy in case you have anything nearby that can burn or in case the wind picks up.
12. Stand around telling jokes, drinking beer and Jim Beam and smoking cigarettes or cigars.
13. When the relatives start screaming they are hungry enough to eat turkey from a pit (this usually takes about two to three hours, but sometimes four) use the shovel to clear the embers off the steel plate.
14. If your wife or girlfriend is watching, stick a meat thermometer in the turkey to make sure it is the temperature they agree is OK for safe consumption.
15. Use the fireplace tongs to lift the turkey from the hole.
16 Unwrap the turkey and put it on the table.
I have found this recipe will easily feed 6-10 people and usually leave a little bit for leftovers.
Michael, Omaha, NE: I am looking into getting a turkey fryer because I prefer the taste much better than just cooking it in the oven. What should I look for when purchasing the perfect turkey fryer?
Tom King: Hey Michael--get one to handle the biggest pot possible. A twenty pound turkey displaces a lot of oil. Also make sure you have plenty of BTUs--flame power. Stainless steel is nice--and expensive; most retail fryer packages are aluminum, which is fine.
Jana, Lawrence: Tom,
Do you have any suggestions for keeping leftover turkey (especially white meat) moist? It always seems to dry out.
Tom King: Hello Jana--Use the leftovers within 2 days, if possible. Otherwise, sprinkle a little stock or water over the turkey and seal tightly.
John, Lawrence: How large a turkey can I cook if I want to deep fry it? I have a 'standard' store bought turkey fryer. What cooking times do you use to deep fry a turkey?
Tom King: Hello John--All these deep frying questions are making me nervous--do you know how many houses burn down each year at Thanksgiving?
Safety is the #1 consideration. A turkey over 20#--unless you have the proper gear--is dangerous. Fry your bird outside, and not on a wooden deck. Heat oil to 375, and fry for 3 mins. per pound.
T, Eudora: How long will I need to cook a 23 pound turkey? I will be using one of the cooking bags as well.
Tom King: Hello T--In a bag, an unstuffed turkey will take about 3 1/2 hrs; stuffed, about 4 hours.
Brenda from Lawrence: Is it possible to brine a turkey for too long? I heard the recommended time is 24 hours.
Tom King: Brenda--12 hours for a 15 # turkey is about right. Use that as a scale for larger/smaller birds. Overbrining, obviously, makes the meat too salty.
Marian, Lawrence: What temperature and if thawed, how long? I'm a first timer this year, and I don't want to blow it. Thanks
Tom King: Hello Marian--the weight of the turkey would help, but you can approximate... At 325F, a 14-18# bird, unstuffed--about 4 hours; a stuffed bird, same weight, about 4 1/4 hrs. Nothing to be nervous about--its just a big chicken. Good luck.
Mike Shields: Tom....Your brine suggestions make me wonder if I couldn't incorporate it into my pit smoking recipe. Can you tell me how to do it? What is the best brine solution. How long should the bird soak?
Tom King: Hey Mike--Brine that bird! Then smoke it. Basic brine is 1 cup UNIODIZED salt (kosher, sea salt) to 1 gallon water. When you add a sweetener to a brine (honey, molasses, sugar), you have a "pickle". A good pickle for a turkey to be smoked:
1 cup salt, 1 gallon water, 1/2 cup honey, 4 cloves chopped garlic, a few cloves and a scant handful of peppercorns. Again, a 15# bird should soak for about 12 hours. Be sure to weight the bird so that it remains completely submerged in the brine/pickle.
Dave, Lawrence: Tom, can you tell us your favorite wine to go with a Thanksgiving turkey?
Tom King: Dave--I'm more than partial to zinfandel, especially late harvest zins from Amador County, CA. A good white would be A Sauvignon Blanc (Chile is turning out some good and reasonably priced ones), or a Chablis, even a rose. But the best wine with a meal is always a wine you like, so start there.
T, Eudora: If I have had my turkey thawing in the refrigerator since Friday (Nov. 18), it will still be OK to bake tomorrow, right? It was frozen solid when I placed it in the fridge.
Tom King: T -- let me know the weight of that bird. A 16-20 pound bird needs 3 to 4 days to thaw, and should be cooked within 2 days once it's completely thawed.
Lori, Topeka: How do I cook a wild turkey that has been skinned?
Tom King: Hey Lori--The skin is important in bird roasting, especially wild birds--they have that tasty fat layer that commercial birds lack. I recommend braising--stewing the oven, but if you're determined to roast it, slather it with butter (add herbs, garlic etc. if you like), wrap in foil and cook at 325. Take off the foil, baste, and replace foil regularly. The outer layer of meat will be crusty, but you'll have tender meat beneath.
Amy: What are the best seasonings for use in roasting turkey
Tom King: Amy, Can't beat traditional sage and onion in my book; certainly salt and pepper are indispensable. But people are using all kinds of spices and seasonings these days: Southwestern (cumin, chile powder), Asian (soy, star anise), Mediterranean (lemon, garlic, rosemary)--try what appeals to you.
M Leonard: I have a new smoker that we'll be smoking our first turkey with and we need some advice. We have no thermometer for the smoker so we'll have to guess at the temp. The turkey has a pop-up on it for proper meat temp but we'd rather overcook than undercook. Also, we thought of using our chicken beer can rack with a "tall boy" to hold up the turkey in the smoker. Is this a good idea?
Tom King: Hello M--Bold move, no thermometer--good way to overcook the bird. You'll have to poke it (flesh firms as it cooks) and cut into it now and then to check. Use the beer can rack, certainly.
T, Eudora: It's a 23-pound turkey.
Tom King: T-its fine to cook tomorrow. Happy turkey.
A-Topeka: What are Tom and Mike having for Thanksgiving dinner?
Tom King: Tom will be having, uh, turkey, With sage & onion dressing, mashed potatoes, cranberry relish, broccoli and plenty of wine.
Mike Shields: My wife is a wonderful cook and is making Beef Wellington as a main course. One of our guests is a professional chef who will be making some delicious appetizers. We also will have a spinach and pine nuts side dish...also mashed potatoes and various breads from Wheatfields. Lemon and pear tarts. Lots of wine. Partagas cigars and port for dessert. I'm a darned lucky fellow.
My turkey from the pit will be for Friday's meal.
Susan, Lawrence: Tofurkey rules.
Tom King: It certainly does, if you like Tofurkey.
Dan, Lawrence: I'm thinking about smoking a 10 pound turkey, which is something I haven't done before. Can you recommend the proper temperature and time to smoke that size of bird? The bird will get a good spice rub down and I will probably use hickory wood. Thanks.
Mike Shields: I wouldn't bother digging a hole, which my recipe calls for... for a mere 10-pound bird unless you're planning to throw a bunch of other meat in the hole with it. I always cook whatever I've got in the pit for 2-6 hours. Trial and error. Tom probably has a better answer for you.
Tom King: Yes, Dan--a 10# bird doesn't need much time in the smoker. I assume you'll do it on a covered grill: figure 15 to 18 minutes per pound for an unstuffed bird; 18 to 24 minutes per pound for stuffed.
Joel Mathis, Lawrence: Guys: Would your pit recipe work on 25 pounds of Tofurkey?
Mike Shields: Yes.
Tom King: Ah, Joel Mathis--voted 2nd sexiest man in America by Turkey Growers magazine. Congratulations, Joel. And yes, you can put your Tofurkey in any pit you want to,
Eric, Lawrence: Does "brining" a turkey really help? If so ... any good brining recipes or tips? Thanks
Tom King: Eric--Brining really does help, except when you're cooking heritage or wild turkeys--they have that natural fat layer that bastes the meat and keeps it moist. Take the basic brine: 1 cup UNIODIZED salt to 1 gallon water, then add seasonings you like. Google "seasoned brine mixtures" for plenty of inspiration.
Moderator: Tom, Mike, that's all the questions our readers have submitted today.
Thanks for participating in today's chat. And an early Happy Thanksgiving to each of you.
Tom King: Pleasure. Happy holidays to all.
Mike Shields: Thanks much for having me. It has been fun. And my kudos to Tom, the real expert.
Copyright 2018 The Lawrence Journal-World. All rights reserved. This material may not be published, broadcast, rewritten or redistributed. We strive to uphold our values for every story published.