Washington — Marcus Camby was everywhere Tuesday night, swatting shots into the stands, grabbing rebounds, hitting his trademark jumper from the top of the key.
So, it stood to reason that he would be at the right spot at the right time as the clock wound down, getting a hand on Gilbert Arenas' three-point attempt just before the buzzer to preserve Denver's 108-105 victory over Washington, the Nuggets' fourth straight victory.
That capped a spectacular game for Camby, who had 24 points, 14 rebounds and six blocks. He has nine double-doubles in 12 games this season.
"I don't like to talk about it. I just go out there and play. My teammates are doing a great job of finding me in my favorite spots on the court," he said. "It's a team effort. I can't go out there and do it by myself."
He got plenty of help from Carmelo Anthony (28 points, 11 rebounds) and Earl Boykins (20 points, half in the fourth quarter), but it was Camby who drew the biggest praise from coach George Karl.
"This year there's no big guy playing basketball as well as he's playing basketball," Karl said. "He's such a good defensive player, and he has such pride in situations like that."
Before the game, Karl stood outside the visitor's locker room and heaped compliments on Arenas, comparing the fifth-year guard to Kobe Bryant and Tracy McGrady and saying: "How do you stop this guy? You hope he doesn't have that special game."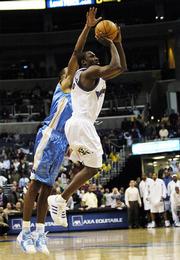 Arenas was special for stretches, finishing with 36 points and 10 assists, but he also was 1-for-6 from the field in the fourth quarter.
The final miss came under pressure from Camby, who came from seemingly out of position to block Arenas' potentially tying shot. Washington coach Eddie Jordan ran on the court to argue for a foul call, but quickly was dismissed by referee Joe Crawford.
Washington's Antawn Jamison had 26 points and 12 rebounds. But the Wizards (5-5) lost their fourth straight game to fall to .500 for the first time this season. Washington was coming off an 0-3 road trip and now heads back on the road for three games, starting today at Orlando.
"We're going through some hard times," Jordan said. "Let's see how tough and resilient we are."
Cavaliers 115, Celtics 93
Cleveland - LeBron James scored 36 points for the second game in a row, and Larry Hughes added 25 for Cleveland. The Cavaliers (9-2) improved to 6-0 at home, where they're not just winning but dominating.
Former Kansas University forward Drew Gooden added 13 points and 15 rebounds - his fifth double-double.
Ricky Davis scored 27 points with 15 rebounds, KU product Paul Pierce had 24 points, and Mark Blount had 21 for Boston.
Trail Blazers 95, Grizzlies 87
Memphis, Tenn. - Zach Randolph had 20 points and 13 rebounds, and Darius Miles added 22 points for Portland.
Miles keyed an early burst in the fourth period with three baskets as Portland built a 75-65 lead. The Trail Blazers maintained at least a six-point advantage the rest of the way and snapped a two-game losing streak.
Shane Battier led Memphis with 21 points, and reserve Mike Miller had 20.
Mavericks 102, Rockets 93
Dallas - Dirk Nowitzki hit the go-ahead basket with six minutes left and finished with 31 points.
Nowitzki's 12-foot turnaround jumper put the Mavericks ahead to stay after the Rockets, again playing without Tracy McGrady, erased a seven-point deficit in the fourth quarter and tied the game at 86.
Suns 90, Raptors 82
Phoenix - Shawn Marion scored 28 points and grabbed 18 rebounds for his ninth double-double in 10 games this season, and Steve Nash added 23 points and nine assists for Phoenix.
In winning consecutive home games for the first time this season, the Suns improved to 5-5. Toronto, which lost its first nine games before beating Miami, fell to 1-10.
Jazz 93, SuperSonics 87
Seattle - Mehmet Okur had 24 points and nine rebounds, and the shorthanded Utah Jazz held off a furious rally in the final five minutes.
The Jazz won consecutive games for the first time since starting the season 2-0. Utah also won both ends of a back-to-back for the first time this season after losing their first four.
Rashard Lewis led Seattle with 26 points, and Ray Allen added 24. Seattle had its three-game winning streak snapped.
Copyright 2018 The Associated Press. All rights reserved. This material may not be published, broadcast, rewritten or redistributed. We strive to uphold our values for every story published.